Paula Radcliffe's top 4 kit buys for runners
Into running? Former long-distance pro Paula Radcliffe recommends the four pieces of kit she swears by...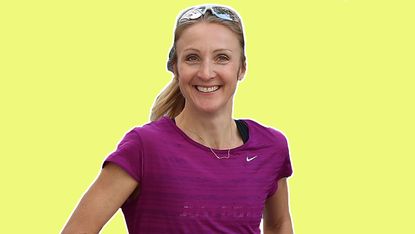 (Image credit: Getty Images)
As a seasoned and successful runner, Paula Radcliffe knows a thing or two about how the right kit can make all the difference to your overall performance. In this article she shares some of her recommendations, and explains why she loves each item.
When it comes to running, choosing what to step out in is of paramount importance. According to Paula, having the right running kit can make or break a run.
'What runners wear has changed so much over the years,' she told Fit&Well recently. 'I think as brands have got to understand the female runner more, in terms of what works and what doesn't, so much has evolved.'
For example? 'Running tops used to be heavy but nowadays you can get such light cotton ones that don't shaft the skin and are sweat-proof which is so important,' she says. The same can be said for running sports bras, which are so vital in providing the right comfort.'
But the biggest developments Paula has seen in her time are in the running shoe market.
'The main thing that has changed is running shoes, which are not just designed nowadays to protect blisters from forming and rubbing skin, but the way they feel when they impact the ground and protect your feet and joints,' she says.
'You need ones that can go the distance, which is why it is so important you spend time researching what will suit you best. These days they are cleverly engineered to provide things such as shock absorbing soles, which are so important.
She adds: 'Then there is running tech too, which is constantly changing.'
So what are the running-related products that Paula personally uses and thinks are worth investing in? Below she reveals four pieces of kit that she swears by...
1. Nike Air Zoom Tempo running shoes
As a Nike ambassador since 2001, it is no surprise to hear that the new Nike Air Zoom Tempo kicks are Paula's favorite running shoes.
She recently gave them her seal of approval on Twitter, praising them as ideal for 'those tired leg days when we all need a run where we feel great and come back mentally and physically rejuvenated.' She added that they were suited for trails, roads and running up and down hills.
If you're on the hunt for a new pair of kicks to run in, take a look at our guides to the best running shoes for women and the best running shoes for men.
2. Frontier X heart rate monitor
The best heart rate monitors provide valuable data for runners - and the chest-worn Frontier X by Fourth Frontier is Paula's HR tracker of choice.
'This is an invaluable cardiac piece of tech,' she says. 'It is a powerful and active monitor that measures your breathing and heart rate. Even my mother has one as she has had health issues in the past. We live in different countries, so it reassures me she can keep an eye on her heart.'
She adds: 'It also does an ECG for you which is brilliant as it means she can record any changes and share with her doctors if there is any medical concern.'
3. Apple Watch
Although there are many different fitness watches, Paula explains she can often be found relying on her trusty Apple Watch - often lauded as one of the best smartwatches for fitness.
'Assessing your performance is all part of a runners mind-set,' Paula says, and the Apple Watch provides plenty of data that allows users to do just that. Key features include GPS tracking, rolling mile average speed, and the ability to connect with some of the best fitness apps for runners, such as Strava, MapMyRun and Nike Run Club.
If you're looking for something specifically made for running (or just not keen on Apple), take a look at our pick of the best running watches.
4. Xplora kids watch
It will come as no surprise to learn that running, erm, runs in the Radcliffe family - along with a reliance on fitness tech.
Paula shares: 'My 11-year-old son Raphael has started to enjoy running more and more so I bought him an Xplora kids' smartwatch, which I think is brilliant.
'As well as tracking his steps as accurately as possible, the watch encourages fitness by adding games into it, which makes it interactive and a reward system too. Plus, it has a good GPS tracking system on it so I always know where he is if he has gone for a run.'
Models made specifically for kids include the XGO2, or the more premium X5 Play. Want more options? We think that the Fitbit Ace 2 is amongst the best fitness trackers for kids.
Get the Fit&Well Newsletter
Start your week with achievable workout ideas, health tips and wellbeing advice in your inbox.
Suzzanne has been writing as a lifestyle journalist for 20 years where they have worked as senior editor across magazines, newspapers and television. As a busy freelancer now they frequently write about lifestyle, health, beauty and fitness for Fit&Well, Hello!, Daily Mail, The Sun, and many others. They also write up product reviews that feature in T3, IndyBest, ES Best and the i.