Amazfit GTR 2 vs GTS 2: which new-release fitness watch is for you?
You get a stack of the latest tech features at a great price with these new smartwatches from Amazfit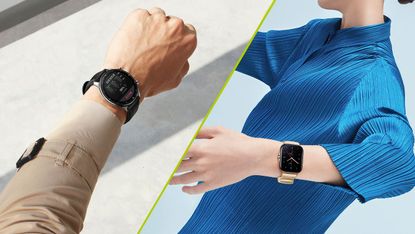 (Image credit: Amazfit)
The wearables brand Amazfit has unveiled two new smartwatches, the Amazfit GTR 2 and GTS 2 - and if you're looking for the best fitness watch at a great price, then it's worth having these fresh releases on your radar.
One key benefit of both watches is that they measure your stress levels throughout the day. With our mental health currently taking a beating due to Covid-19 - and all the associated anxiety that comes with it - the releases are timely. And whilst stress-monitoring isn't new as such, the Amazfit duo provide the feature for a relatively small outlay.
But which one is for you? Read on to discover more about both models.
Amazfit GTR 2 vs GTS 2: price
There's nothing to choose between here, with both watches ringing in at $179 / £159 - a great price considering the range of features that they, umm, feature.
Compare this to the Fitbit Sense, for example, which retails at $329 / £299.99, and it's easy to see that this pair of fitness wearables add affordability into the equation (although good Fitbit Sense deals can be found, if that's what you're in the market for).
Either could therefore make a cheap secondary smartwatch option if you want to keep your best Fitbit for special occasions.
Amazfit GTR 2 vs GTS 2: features
Central to the appeal for many will be the 24/7 heart rate tracking. You'll get warnings if your resting heart rate rises to abnormal levels, while blood oxygen saturation monitoring keeps tabs on your cardiovascular health. However, given the low price point of both, there's also Amazon Alexa voice control built-in plus a beefy 3GB of space for storing your best workout tunes.
There are plenty of exercise tracking modes too, with 12 different options including swim tracking and both smartwatches are water resistant down to 5ATM. Add on sleep tracking plus very impressive battery life and you've got a pair of smartwatches that pack quite a punch in the value department.
Indeed, fitness enthusiasts even get the benefit of being able to push their workout data to their preferred fitness app, rather than having to make do with the Amazfit app.
Amazfit GTR 2 vs GTS 2: design
Design will likely be the key factor for anyone trying to decide between the two models. While both smartwatches pack similar technical specifications they're very different to look at.
The Amazfit GTS 2 sports a square face - rather like its predecessor, the original GTS model - and offers ore variety in terms of colors, available in midnight black, desert gold or urban grey.
The GTR 2 meanwhile features a round bezel with a choice of stainless steel or black casing, and comes with a black strap.
Both designs have been tailored for use during exercise, with the AMOLED displays featuring 3D curved Gorilla Glass and anti-fingerprint screen coating making them suitably durable.
They should both also prove to be less intrusive than earlier models as the cases are aluminium alloy, meaning they're lightweight but robust.
Tech expert Rob Clymo covers multiple bases when it comes to both reviewing and staying in shape, tackling everything from cars and bikes to coffee machines, as well as the latest fitness kit. Keen cyclist Rob can often be found working out, usually by manhandling very large kitchen appliances in and out of the house for testing purposes – one notorious incident saw his plasterwork damaged by LG's weighty and steam-powered 'smart wardrobe', the Styler.