TRX Home2 review: a stand-out suspension trainer for home workouts
The TRX Home2 suspension trainer set provides an excellent full-body workout in the comfort of your own home - if you can get to grips with how to use it...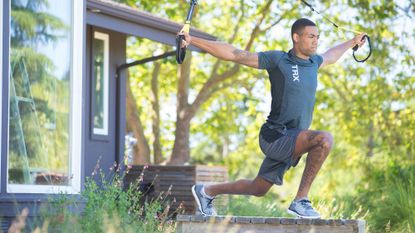 (Image credit: TRX)
TRX delivers full body workouts that challenge a vast array of muscle groups, on the way to greater strength, a leaner body and improved flexibility. It's safe, durable and fun to use. The system could be friendlier to novices, but the rich ecosystem of workouts are consistently stimulating and the variety makes this product easy to recommend.
Reasons to buy
+

Reliable and durable

+

Easy to set-up

+

Great array of workouts and exercises
Reasons to avoid
-

Initiation could be kinder to beginners

-

Requires a suitable anchor point
Welcome to my review of the TRX Home2 suspension trainer for Fit&Well!
If you're looking to up your home workout game (or the thought of returning to the gym post-Covid is unappealing), then this first-class suspension trainer set could be for you. It offers a full body workout at home, without all the clutter and noise that comes with free weights or a multi-gym.
Installable on any study overhead surface, the system leverages your own body weight to facilitate an exercise routine that can help build strength, burn fat, cultivate muscle and improve flexibility, making it one of the best exercise machines to lose weight.
The TRX Home2 system is the brand's entry-level suspension trainer set and is portable enough to accompany you on any trip. The idea is, you never have to miss out on getting your workout in. TRX pledges to be an all-levels solution with benefits for all fitness enthusiasts, whatever their discipline. An independent study attests to its ability to help burn fat, improve overall heart health and build strength.
Yes, it's a little tricky to get up and running with. But having tested it over several weeks, it's quickly become a bit of home fitness kit that I wouldn't be without - and deserving of a spot on my round-up of the best workout equipment for home. In this review, I'll explain why.
TRX Home2 suspension trainer: price and features
The TRX Home2 suspension system costs $199.95/£179.95, and is available to buy direct from TRX via the US website or UK website, as well as select third-party retailers. The price includes a year of premium access to the TRX app (more on that below).
Compared to a good multigym or free weights set up, or even a monthly gym membership, you're getting off light here. TRX systems range up to $249.99 for more versatile and rugged options, but for beginners we'd say the Home2 system is the most suitable version.
For your investment the Home2 system gets you the fully adjustable suspension trainer with foam handles and foot cradles. There's also the door anchor and a suspension anchor, along with a mesh carry bag for transportation.
With its easily identifiable yellow branding, TRX is the clear market leader in this space. If you want to go a little cheaper, Fitbeast have some more affordable options, but sacrificing sturdiness probably isn't wise when you're trusting the cables and grips with your entire body weight. The likes of Auster and Vulkan also offer alternative premium options.
TRX Home2 suspension trainer: set-up
People choose TRX because it can be set up simply and practically anywhere. Got a strong door with a few feet of clear space directly in front or behind? Place the foam anchor behind the door, close it, give the straps a tug and you're good to go. Just make sure you place the anchor on the side of the door that opens outwards. I learned that the hard way, when the door flung open and I was left with a bruised behind.
If you want to hang it from the ceiling, you can use the adjustable suspension anchor and a steel mount (sold separately). If you're hanging it from an overhead anchor point like a tree or a metal frame, you can wrap the suspension anchor around and clip it for a secure base.
I'd recommend a yoga or Pilates mat for comfort and protection on hard surfaces (check out Fit&Well's best yoga mat recommendations if you don't already own one). I found lunges to be quite tough going on my (admittedly surgically reconstructed) left knee cap without the mat. Ideally, you'll have about 10ft of clear space back from the cables. I found myself with a sofa impeding my progress when leaning right back for a low row, for example. A couple of feet either side helps too.
Once hung, it's all about learning how to adjust the straps for the various exercises using the pulling the yellow tabs and opening and closing the barrel locks. There's fully extended, fully shortened, mid-length and mid-calf configurations. This takes a little getting used to, but there are tutorials in the app and it soon becomes second nature.
TRX Home2 suspension trainer: TRX app
Your suspension trainer purchase gives you one year of premium access to all workouts and features, worth $49.99 a year. You'll find a card with the code within the box. Those experienced with using TRX at a local gym, CrossFit box or HIIT studio will be able to jump straight into the workouts and tracking capabilities.
However, for newcomers, which is what I am, the app provides everything you need to familiarize yourself with how to use the suspension trainer and how the straps are correctly adjusted and locked into place for the various exercises. The primer also provides video demonstrations of key exercises, like the low row, squat or chest press, which that'll be part of your workouts moving forwards.
I'd also recommend using a screen larger than your phone when trying to follow the instructions. I found tapping the buttons when sweaty and flustered wasn't easy on a smartphone screen.
The app is also compatible with an external heart rate monitor, if you have one (if not and you'd like one, see this list of the best heart rate monitors). This will give you a better idea of how effective your workouts are. It's also helpful afterwards, because you get a graph of your HR throughout, along with the averages and calories burned.
Before commencing a voice-guided workout you'll need to download it to your phone. Streaming would probably be easier on Wi-Fi, but this is better if you're taking TRX outside because you aren't hammering mobile data.
As well as your suspension training workouts, there's also tons of coaching sessions for running, cycling and high intensity training. For those you may need additional equipment, like a kettlebell or stability ball.
TRX Home2 suspension trainer: workouts
The TRX workout is based upon seemingly endless variations of seven key movements: Push, pull, plank, rotate, hinge lunge and squat. For example, you can perform a bicep curl by clutching the straps, learning right back on your heels with straight arms and pulling your body weight back up to an upright position with your elbows at shoulder height. Depending on the workouts you choose, you'll go through multiple exercises, each lasting around 30 seconds, with time allocated to adjust the straps to the recommended lengths and adjust body position.
Each exercise has a video demonstration you can study beforehand or during the workout. The changes come thick and fast and rushing to stay in time with the workout is a recipe for injury.
For me, the pause button was the key. Realizing you don't have to complete the workout as it happens is a blessing, because if you're scrambling to get your feet into the cradle before setting yourself, or lunging without having your feet in the correct position, you will hurt yourself. I was side-lined for about 5 days after my first workout. So, take it at your own pace, until you're familiar with all of the exercises and changing strap lengths and foot positions becomes second nature.
Once commenced you'll hear vocal instructions informing you of the time left and what to do next. The display will show the exercise itself taking place. If you're wearing headphones, your own tunes can be piped in alongside the voice instructions. If you connect an external heartrate sensor like a Polar H10 you'll see a live readout on the display.
You'll be able to select workouts via duration (0-20 min, 20-40 min, 40+ min), or for a particular purpose like whole body conditioning, weight loss, upper body core strength, recovery and flexibility.
For example, I loved coming in from a run and doing a quick 15-minute upper body blast with some low rows, bicep curls, chest presses, and triceps extensions, along with some suspended planks and side planks. TRX is easy and quick to set up, making it less of a chore to motivate yourself. It's a great way to quickly shed another 250 calories or so for a more rounded workout before jumping in the shower.
Other times, TRX can be your primary workout lasting up to an hour. If there's a particular exercise within a workout you don't wish to carry out due to injury concerns, you can just skip to the next one. Once you're familiar with all of the exercises, the app becomes less essential. You can easily create your own regimen based on the muscle groups you're looking to work on any given day. For example, as a yogi, I've found the TRX suspended planks and side planks have boosted my core and arm strength for the real thing.
TRX Home2 suspension trainer: quality and care
The straps, handles and foot cradles on the TRX Home2 are rated for people weighing up to 350lbs (25 stone), and throughout testing I found the straps and cradles to be rock solid.
At first glance, I wasn't convinced the door anchor (effectively a small cushion stitched to the strap) would hold my weight over time, but so far so good.
The 1.5lb weight makes it super easy to transport and the mesh bag makes TRX no problem to store. Things will get a little sweaty and stinky after a while, so it's a good thing it's machine washable. Make sure you air dry it rather than stick it in the tumble dryer.
TRX Home2 suspension trainer: verdict
My early time spent with the TRX Home2 suspension trainer was less enjoyable than it could have been. The ecosystem lacks a duty of care to absolute novices who could really hurt themselves without learning the proper form. Early workouts left me flustered and frustrated during and in pain for days afterwards - which is why it doesn't quite get a five star rating.
However, as the old adage goes: practice makes perfect. A few weeks in I'm enjoying using my TRX trainer (having sworn off the gym, probably forever), and particularly loving the convenience.
The key, I've found, is to go easy on myself. Pause the workout, watch the demonstrations and restart. Although there is a heartrate training/cardio element to this, it isn't a race. I've found I've reaped more benefits from doing the exercises properly and with care for my body, rather them doing them quickly. I'll keep TRX as part of my workout regimen moving forward.
Also consider
TRX is the Hoover of suspension training - and for good reason. It has great name recognition, is in gyms and HIIT studios around the world, and has built a vast workout ecosystem with a relatively wide appeal. This is the brand's entry-level suspension set, but more advanced options are available - head to the TRX online stores (either in the US or the UK) to find the one that's right for you.
However, they aren't the only set of straps on the map. Auster has built a solid reputation and its £120/$160 Power Straps are worth a look. Anchors are purchased separately though, so it adds up.
If you want a bargain basement option, Decathlon offers the Domyos DST 100 suspension trainer for just £14.99 (it's unfortunately not available in the US). However, the price difference exists for a reason; we wouldn't expect too much in the way of long-term durability.
Get the Fit&Well Newsletter
Start your week with achievable workout ideas, health tips and wellbeing advice in your inbox.
Chris is a freelance contributor to Fit&Well. He's from Shropshire, England originally, but currently lives in the United States near Miami, FL. Chris has written about health and fitness technology for a decade, including as an in-depth feature writer and product reviewer for Wareable.com, tackling emerging wearable tech trends in the sports and fitness industries. When not on the beat for Fit&Well, Chris writes about technology for Trusted Reviews and WIRED, sports for The Guardian and just about everything else for Shortlist, Pellicle, Digital Spy and a selection of other publications. He also pens books on technology use for Flametree Publishing.
Chris stays fit through hot yoga (studio not always necessary in the Florida humidity) and hopes to complete teacher training in 2021. He enjoys cycling, tennis, running and, ever-more-infrequently, playing football (or soccer, to his American friends). Those old injuries he 'ran off' as a teenager have finally caught up.