Sennheiser Sport True Wireless review: mid-range price, decent sound, but no noise cancellation
Our Sennheiser Sport True Wireless review covers everything you need to know about these long-lasting workout earbuds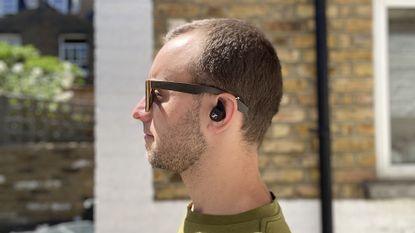 (Image credit: Future)
The Sennheiser Sport True Wireless earbuds are designed with varied workouts in mind. These multi-purpose workout earbuds are a practical choice if you're a casual runner who enjoys hitting the gym or exercising at home. The exercise-dependent tips of different sizes and styles are an interesting idea but are ultimately too fiddly to change regularly. The customizable wings keep the buds in place, and they offer decent audio quality for the price.
Reasons to buy
+

Comfortable and secure fit

+

Audio customization using the companion app

+

Great battery life
Reasons to avoid
-

Focus and Aware ear tips are fiddly

-

No noise cancellation

-

Bass gets lost in many songs
When we set out on our Sennheiser Sport True Wireless review, we were excited about Sennheiser's first set of sports-focused earbuds. The company is well-known for its high-quality sound, and we wondered if this would bring a new dimension to our training.
Like many of the best workout earbuds, the Sport True Wireless have no wires or cables to get in the way, come in a neat charging case, and have small ear hooks to keep them lodged in place while you exercise.
These are all great features, but when you can already choose between similar spec'd models like the Jabra Elite 7 Active, Skullcandy Push Active, or even the Apple AirPods Pro, we were curious to know how the Sennheiser Sport True Wireless would stand out.
Aside from the audio quality, the most unique offering is the two sets of customizable ear tips for different audio experiences; one set for running and one for general workouts. Changing tips isn't a fun chore, but they did have some impact with software support.
Whether you're after immersive audio for your training or want a multi-purpose set of earbuds that suit long runs as much as sweaty home workouts, our Sennheiser Sport True Wireless review will take you through everything you need to know.
Sennheiser Sport True Wireless review: price and features
The Sennheiser Sport True Wireless are available for $129.95/£119.99. For your money, you get a set of earbuds housed in a charging case that can extend the nine-hour battery life up to an impressive 27 hours with IP54 protection against water splashes and dust.
The dust protection here is interesting as it's pretty rare to find this on a set of workout earbuds. The Jabra Elite 7 also offer this, but with a higher degree of water resistance, as the Sport True Wireless' splash-proof rating means they aren't great for rain-soaked outdoor exercise.
This feels like an oversight, especially since the earbuds come with an Aware mode for outdoor exercise. Interestingly, the Aware mode also claims to filter out the sounds of your steps and breathing while running.
Despite this, the earbuds don't offer any form of noise cancellation, so switching to the Focus mode tips, which are designed to physically block external sounds, is the closest you get to a noise-free experience.
Sennheiser has a well-earned reputation for high-quality sound, so it's not surprising that the Sport True Wireless are also packed with tech to deliver crisp audio. And with the Sennheiser Smart Control smartphone app, you can adjust the bass and treble to suit your ears.
Sennheiser Sport True Wireless review: sound quality
Over the course of a month, we put the Sport True Wireless through our earbud testing process. While we also looked at the physical design, one of the most important considerations is how they sound.
To help with comparisons between sets, we use reference tracks for testing; Queen's Bohemian Rhapsody and Deadmau5's Faxing Berlin. The Queen track is dynamically varied, alternating between bass and treble sections, with quiet and loud parts.
Faxing Berlin is a high-tempo track that often makes the best workout music playlists thanks to the bass-heavy song's high beats per minute (BPM). But we found that the default setup flattened the bass, and adjusting the bass on the app's equalizer made the audio muddy.
Bohemian Rhapsody fared better, mainly because there's less focus on bass. The famous layered group vocals throughout the song mostly use higher treble frequencies, and the Sport True Wireless handled these well.
We also used the earbuds for workouts and leisure, listening to different music and podcasts. Overall, the experience was good, but alternatives like the Jabra Elite 7 Active or Sony WF-1000XM4 offer a more immersive experience.
Sennheiser Sport True Wireless review: design and comfort
The Sport True Wireless come with two sets of tips with three sizes in each. They look quite similar, but they are designed for different activities. The Focus set forms a tight seal to help block external noises passively (without power from the earbuds).
Meanwhile, the Aware set is designed to allow some background noises in. If you activate the Aware mode in the app, the earbuds help you hear your surroundings so that you can keep track of nearby runners or traffic but remove personal sounds like breathing or footsteps.
This is a fairly unique way to approach these audio experiences, as most earbuds offer noise cancellation and an awareness or transparency mode you can toggle with a button on the earbuds. But there's a reason almost every other brand opts for software rather than tips.
It's quite fiddly to change tips at the best of times, but this is usually just a one-time task while you find the right fit. Having to do it every time you want to switch between the gym or at-home workouts to running became a bit of a chore.
You could overlook this if using them was dramatically different, but we weren't convinced. The closed-design Focus set did a reasonable job of blocking sound, but the Aware set let in too much noise and didn't drown out breathing and steps, just turned the volume down a little.
Fortunately, the fit is actually reasonably comfortable and secure as the bud's wing sits just inside the curve of your ear. They come with three sizes of wings that you can choose between and didn't fall out whether we were doing a HIIT workout, going for a run, or lifting weights.
Sennheiser Sport True Wireless review: battery life
Sennheiser claims that you should get nine hours of battery from the earbuds themselves, which you can top up to 27 hours with the charging case. The case, which looks a bit like a large pillbox, charges via USB-C, which is the same cable many smartphones use.
It's hard to fit the case in your pocket because of the slightly awkward shape, but there's a keyring loop on the left edge you can thread a strap through to attach the case to your bag or workout clothes.
However, it does its job well and keeps the earbuds topped up for at least 20 hours of use. Depending on how often you have them powered on, the volume, and whether you take calls, Sennheiser's estimates are about right.
Since the portion of the bud that protrudes out of your ear is quite large, it also sticks out of the case, making it easy to get the buds out. They power on as soon as you remove them, and we found that they lasted between six and eight hours with regular usage.
This means the battery of the Sport True Wireless just about outperforms the Apple AirPods Pro and the Bose Sport Earbuds, an alternative pair of true wireless workout earbuds from another brand known for high-quality audio.
Sennheiser Sport True Wireless review: user reviews
At the time of our review, the Sennheiser Sport True Wireless had only been publicly available for a few weeks, so there aren't many user reviews online right now. However, early reviews praise the headphones for what they deliver at a reasonable price.
As one reviewer noted, "sound quality is good, but if you really focus on it, you [realize you're missing] a few things." This didn't dampen enthusiasm for the comfortable design and secure fit, as they "don't fall out even after shaking, running and jumping for a long time."
We'll be adding more user reviews here when they are available.
Sennheiser Sport True Wireless review: verdict
The Sennheiser Sport True Wireless are an interesting first step into everyday workout earbuds from the German audio equipment manufacturer. At around $129.95/£119.99, they're roughly half the cost of the Apple AirPods Pro.
Impressively, the battery life also surpasses the AirPods Pro, often coming close to the 27 hours promised by the company. The case is a little chunky compared to other pairs, especially the Jabra Elite 7 Active, and can be a challenge to fit into your pockets or bag.
The Aware and Focus tips are an interesting experiment but ultimately fall short compared to the software alternatives most other brands use for noise cancellation and awareness modes. And while they sound good, we felt they don't quite live up to Sennheiser's usual high standards.
Though we wouldn't call these downsides exactly—more like areas for improvement. Overall, the Sennheiser Sport True Wireless are a great almost-premium set of workout earbuds at a mid-range price, making them an excellent choice for casual exercise.
Also consider
1. Jabra Elite 7 Active
The Jabra Elite 7 Active are designed to withstand even the most intense and sweaty routines. They come with an IP57 rating for water and dust resistance, stay firmly in place thanks to Jabra's ShakeGrip materials, and have an awareness mode so you can hear your surroundings when training outdoors.
2. Skullcandy Push Active
If you find in-ear designs don't always stay in place, the Skullcandy Push Active come with ear hooks to stop them from falling out. The large design is surprisingly light, and you can control the long-lasting earbuds with voice commands. The charging case is bulky, but it provides 24 hours of battery, making these a great alternative to the Sennheiser Sport True Wireless buds.
James is a London-based journalist and Fitness Editor at Fit&Well. He has over five years experience in fitness tech, including time spent as the Buyer's Guide Editor and Staff Writer at technology publication MakeUseOf. In 2014 he was diagnosed with a chronic health condition, which spurred his interest in health, fitness, and lifestyle management.
In the years since, he has become a devoted meditator, experimented with workout styles and exercises, and used various gadgets to monitor his health. In recent times, James has been absorbed by the intersection between mental health, fitness, sustainability, and environmentalism. When not concerning himself with health and technology, James can be found excitedly checking out each week's New Music Friday releases.