Fiit vs Apple Fitness+: which home workout app should you choose?
They're two of the most popular home workout apps, but which is best when it comes to Fiit vs Apple Fitness+?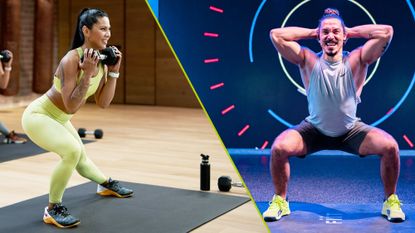 (Image credit: Apple Fitness+ / Fiit)
When it comes to the best workout apps, many people find themselves choosing weighing up the pros and cons of Fiit vs Apple Fitness+.
They're two of the leading options on the market which have exploded in popularity thanks to lockdowns and gym closures the world over forcing people to exercise at home. But even before coronavirus came into our lives, home workout apps were increasingly popular, offering convenience and value for money.
Fiit launched in early 2018 and quickly became one of the most popular apps around, thanks to its mix of classes, A-list trainers and options for all abilities.
It was only a matter of time before Apple got in on the action, with Apple Fitness+ launching in December 2020.
As a personal trainer, I've tried and tested both apps. Below I outline the pros and cons of Fiit vs Apple Fitness+ from various aspects, to help you decide which app is best for you.
RANGE OF WORKOUTS
Both platforms over a range of different classes aimed at everyone from beginners through advanced. Plus, both offer classes at varying lengths so whether you're strapped for time, or have longer to play with, there's no excuse not to get a workout in!
Fiit's workouts are split into three main categories. These are:
The Cardio classes are high intensity aimed at burning fat, toning muscle and building stamina, whilst Strength workouts use a combination of bodyweight and equipment moves to build and sculpt muscle. A set of the best adjustable dumbbells and/or resistance bands can be handy for these.
Finally, Rebalance improves flexibility; think yoga flow, Pilates, mobility and breath work.
There's a full daily schedule of workouts, and these are updated regularly to keep things fresh.
When it comes to Apple Fitness+, workouts fit into one of seven categories:
HIIT
Yoga
Strength
Core
Rowing
Cycling
Treadmill
There's also a number of Mindful Cool Downs for post-workout, as well as a range of workouts that teach the basics of each category workout, covering points such as good technique and form to avoid injury.
Workouts that require large items of equipment (i.e. cycling, rowing and treadmill) may not suit those who don't have access to rowing machines, exercise bikes and treadmills. However, these types of workouts are great for gym goers, making Apple Fitness+ a useful resource away from home too.
Plus, just like Fiit, the workouts on Apple Fitness+ are updated regularly, and instructors bring in new moves and routines to keep things fresh.
FITNESS INSTRUCTORS
Both platforms work with some of the best instructors in the industry. Each instructor is a specialist in their particular field.
Fiit has some big Instagram starts including the likes of Head of Fitness Gede Foster (pictured above), leading trainer Lawrence Price and breath expert Richie Norton. Love Island UK fans will also recognize series three contestant and fitness star Gabby Allen in the Cardio and Strength sessions.
Fiit also features trainers who specialize in pre-and post-natal exercise too.
Apple Fitness+ works with a diverse range of US and UK based personal trainers including yoga expert Jessica Skye and HIIT trainer Kim Ngo.
They also work with Molly Fox, an ex Jane Fonda workout instructor who advocates strength at any age.
As you'd expect from Apple, all trainers are bubbly, charismatic and relatable, and often bop along to the music in the background.
What's great about Apple Fitness+ workouts is that trainers appear in each others' workouts; one usually offering an easier alternative to a specific move and another often providing a harder version, so you can really challenge yourself.
FITNESS TRACKING
Both platforms allow you to track various metrics including your heart rate and calories burned during a workout.
Fiit is great in the sense that it's compatible with more than 25 leading fitness devices including several of the best fitness trackers, such as Fitbit, Samsung Watch, MyZone and yes, Apple Watch.
This allows users to track their progress as well as join leaderboards to really up the competition. Fiit also allows users to plan private workout classes with friends. These also come with leaderboards so there's no chance you'll go too easy!
Meanwhile, whilst the fitness tracking is exceptional on Apple Fitness+, you do need an Apple Watch Series 3 or above to use it - a key consideration to bear in mind.
Apple Fitness pairs with the Apple Watch, and metrics on the infamous Apple Rings are shown on-screen as you go - whether you're working out on your iPhone, iPad or Apple TV.
USER EXPERIENCE
There's no denying that both Fiit and Apple Fitness+ offer smooth, seamless apps which allow users to easily select their workouts. There really is no faulting either of these when it comes to ease of use.
If you want a designated workout plan, Fiit can provide you with this. You can select a two, four, six or 10-week plan based on your personal fitness goals. Options include things like
Whilst Apple Fitness+ doesn't offer tailored exercise plans like this, it does recommend workouts based on your previous choices, as well as recommending trainers you might like. You can also narrow down your selection choices by music. Feel like working out to a rock playlist? Now you can!
In terms of classes, both platforms film the on-demand sessions in sleek studios. The Fiit studio has somewhat of a nightclub vibe - all dark settings punctuated with bright lights - whilst Apple Fitness+ workouts are filmed in various studios, depending on the workout. For example, the HIIT classes for example are filmed in a gymnasium reminiscent of a school gym hall, complete with wooden floors and apparatus such as wall bars.
VALUE FOR MONEY
Both workout platforms work out far cheaper than a gym membership, and you're given unlimited access to a multitude of workouts.
At £120*, a yearly subscription offers the best value for Fiit, working out at £10 a month. Alternatively you can pay on a monthly basis, which costs £20 a month. Note that the price converts to local currency for users outside of the UK at the point of checkout.
In comparison, Apple Fitness+ is surprisingly cheap: a year's subscription costs $79.99/£79.99, whilst it's $9.99/£9.99 to pay monthly.
Both services also offer free trials, with Apple's offer being slightly more generous - provided you're in (or willing to join) the Apple club, of course. Existing Apple Watch users can get one month free, whilst new Apple Watch purchases come with three months' free access. Meanwhile, Fiit offers a 14-day free trial to all.
FIIT VS APPLE FITNESS+: VERDICT
It's hard to pick a winner in the Fiit vs Apple Fitness+ battle, with both offering first-rate platforms that are easy to use and cater to all abilities.
Workouts are varied on both, however the fact that Apple Fitness+ provides machine based-workouts as an alternative to mat classes is a plus in our eyes - and something that will be particularly welcome one gyms reopen.
Whilst both allow you to track your progress, anyone working on a tracker other than the Apple Watch won't be able to use Apple Fitness+. This will generally be the key determining factor of whether you choose Apple Fitness+ over Fiit - but if anything's going to convert you to Apple Watch, then this is it.
However, if you're not ready or willing to make that kind of investment, then Fiit could prove the more cost-effective option for you.
Get the Fit&Well Newsletter
Start your week with achievable workout ideas, health tips and wellbeing advice in your inbox.
Lucy is a freelance journalist specializing in health, fitness and lifestyle. She was previously the Health and Fitness Editor across various women's magazines, including Woman&Home, Woman and Woman's Own as well as Editor of Feel Good You. She has also previously written for titles including Now, Look, Cosmopolitan, GQ, Red and The Sun.
She lives and breathes all things fitness; working out every morning with a mix of running, weights, boxing and long walks. Lucy is a Level 3 personal trainer and teaches classes at various London studios. Plus, she's pre- and post-natal trained and helps new mums get back into fitness after the birth of their baby. Lucy claims that good sleep, plenty of food and a healthy gut (seriously, it's an obsession) are the key to maintaining energy and exercising efficiently. Saying this, she's partial to many classes of champagne and tequila on the rocks whilst out with her friends.