Running in cold weather: winter gear and how to get started
Everything you need to know about running in cold weather, including what to wear and where to begin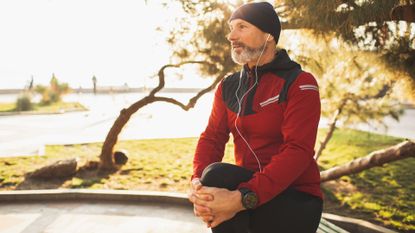 (Image credit: Getty)
Get the Fit&Well Newsletter
Start your week with achievable workout ideas, health tips and wellbeing advice in your inbox.
Thank you for signing up to Fit And Well. You will receive a verification email shortly.
There was a problem. Please refresh the page and try again.
Running in cold weather might not sound that inviting and as the days get colder it can be tempting to take your exercise indoors but there are good reasons to run outside in winter, not least because of the benefits to health and mind.
In this feature, we'll be giving you all the information you need about how to get started, and what to avoid too. We'll be running through all the gear you might need including the best trail running shoes and even the best running earbuds to keep you motivated as you run.
Running in cold weather: what are the benefits?
1. Improves your mental health
According to a 2011 review of research, exercising outdoors appears to have greater mental health benefits than indoor exercise. It's perhaps not surprising given exposure to more natural environments is recognized to provide positive mental health benefits on its own.
2. Helps your overall health

It's not just our mental health that benefits from being in the great outdoors though. According to a 2018 review of research, our general health does too – with the incidence of stroke, hypertension, asthma, and coronary heart disease all being reduced. A 2013 review also concluded that exercise in natural, outdoor environments may provide some of the best all-round health benefits.
3. Burns calories

Fighting the cold uses more energy – so a cold-weather run has the potential to burn more calories. Exposure to the cold has also been found to increase the percentage of calorie-burning brown fat in our bodies. Still not convinced? Check out the best exercise machines to lose weight inside.
4. It may feel easier

Hear us out on this one. Not only are you likely to sweat less in the cold but there's some evidence exercise feels easier when taken in more natural environments.
Running in cold weather: how to get started
Despite the benefits, cold-weather running does come with a unique set of challenges.
1. Avoid injury
"There's an increased injury risk in cold weather because cold muscles are less supple," says Hannah Maxwell, a personal trainer with the UK's largest health charity, Nuffield Health. Hannah, who has trained professional athletes, recommends warming up indoors where possible. "Opt for a dynamic, rather than static, warm-up such as moving lunges, walkouts, and walking knee lifts."
2. Stay hydrated

"People tend to think less about hydration in winter but exercise will speed up dehydration even in the cold," says Hannah. "Take a hydration pack on any run longer than half an hour and drink little and often. Add electrolyte pouches for long-distance runs."
3. Consider your nutrition

In cold weather, your body uses up more energy to keep you warm so snacks are important. Nutrition coach and runner Katie Brown advises: "For runs longer than 45 minutes I strongly recommend taking a small, easily digested snack like a slice of malt loaf, oatcakes, a piece of fruit or even a sports drink."
4. Tweak your routine

"During the winter, I'm less likely to run outside after work because it's dark," says Katie. "I find it harder to relax into a flow because I'm busy focusing on my foot placement and surroundings. So, it's early mornings for me. On frosty days, I'll reduce my pace and head towards the trails for better grip over running on the road. It's personal choice though, so find what works best for you."
5. Run safely in the dark

If you do run in the dark, choose well-lit paths, wear reflective, high visibility clothing or a high vis vest or sash. Take a flashlight, a phone – and ideally a running buddy.

6. Layer up

Layers are one of the best ways to regulate body temperature and respond to weather changes. See our winter trail running essentials and recommendations below.

What to wear for running in cold weather
Resist the temptation to wear ALL the clothes when you head out in the cold as you'll likely end up feeling sweaty and restricted. It's about dressing smarter.
Base layer: "Cotton tops will quickly get cold with sweat," says Hannah. "Instead look for 'wicking' fabric, which will draw sweat away from your body and help regulate your body temperature." We'd recommend a compression base layer such as this ColdGear top from Under Armour.
Gilet: Keep your core warm without restricting movement by investing in a gilet. "It provides the perfect balance between staying warm enough and not having to remove layers," says Katie.
Weather-resistant jacket: Stash a packable wind and rainproof jacket in your runner's bag or pocket. Be seen with this reflective jacket from Amazon.
Warm running socks: Don't be tempted to wear thick socks or more than one pair as it can lead to blisters," says Hannah. "Opt for warm sports socks, designed for the purpose. There are also waterproof runners socks for wet days."
Wind resistant gloves: "Normal gloves are pretty useless in the wind and rain. Wind resistant runners' gloves can make a huge difference. You can also find thermal and waterproof versions".
Trainers with grip: "When it's wet and slippery, consider switching to trail running shoes for extra grip," says Hannah. Or look for attachable running spikes. Avoid cold, wet feet with weatherproof uppers". For ideas, take a look at the best running shoes for women or the best running shoes for men.
Hat or headband: The best will wick away sweat and can provide weatherproofing. Consider one with a built-in flashlight. Or, if you get too warm in hats, try a headband to protect your ears.
High visibility clothing: Make sure you can see and be seen on darker winter runs. Look for reflective clothing, high vis straps, and a headlamp or flash.
Get the Fit&Well Newsletter
Start your week with achievable workout ideas, health tips and wellbeing advice in your inbox.
Claire is a freelance health, fitness and food journalist who has written for titles including Women's Health, Top Santé, Woman & Home, Feel Good You, the Telegraph and Independent. She has a passion for being outside in nature and you're more likely to find her walking in the woods or joining an exercise class in the park than pounding a treadmill in the gym. She also has a special interest in nutrition and healthy eating, having previously been Food Editor at Top Santé magazine. Her top fitness tip? Take your exercise outdoors wherever possible. It has been shown to boost the physical as well as mental health benefits of a workout and also to make you more likely to want to do it again!