Fitbit Ionic review: the original Fitbit smartwatch
Fitbit Ionic is a useful health and fitness device - now available at a great price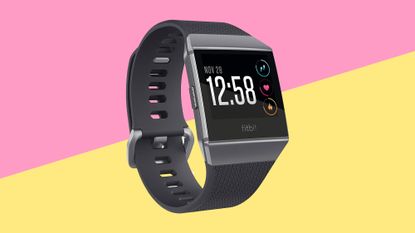 (Image credit: Fitbit)
How much you go for the Fitbit Ionic depends on how invested you are in the Fitbit ecosystem. We're fans of its app and tracking methods, and the Fitbit Ionic's exercise features are certainly useful. However, if you want a multipurpose smartwatch, there may be better options out there for a little more cash.
Reasons to buy
+

Dynamic coaching feature

+

Music storage

+

Fitbit ecosystem
Reasons to avoid
-

Bit slow

-

Bulky to wear on some wrists

-

Average battery life
Welcome to Fit&Well's Fitbit Ionic review. Fitbit is well known for its many fitness wearables and the Fitbit Ionic (released 2017) marked its first foray into the smartwatch world.
It's since been surpassed with other entries like the Fitbit Sense and Fitbit Versa 3 (not only some of the best Fitbits, but also generally some of the best running watches on the market), but you do get the advantage of snapping up the Fitbit Ionic for far less than it was originally priced at.
The Fitbit Ionic isn't styled like other Fitbits. Instead, it attempts to rival the likes of Garmin's series of smartwatches and even pivots itself as a budget alternative to the Apple Watch. That means it's a more significant addition to your wrist so you'll want to make sure it looks the part. Fortunately, some measures have been implemented here such as a choice of color schemes plus a smarter-looking display than other Fitbits.
Aimed at the smartwatch market, the Fitbit Ionic has all the benefits of a regular Fitbit along with built-in GPS, dynamic personal coaching, storage for your favorite songs, and Fitbit Pay support. In theory, you won't need your phone often while you're wearing the Fitbit Ionic. Below we outline further what this budget smartwatch offers for the price.
Price, options and features
The Fitbit Ionic has a recommended retail price of $249.95 / £249.99 / AUD $399.95, but you're unlikely to pay anywhere near as much as that now.
Nowadays you can expect to pay more like $199 / £219 / $285. That's because the Fitbit Ionic launched back in September 2017, making it an older model that has been somewhat superseded by the Fitbit Sense. Future sales events may reduce the price even further - keep an eye on our round-up of the best Fitbit deals for the best prices daily.
When it comes to color choices, the options are fairly extensive. There's the standard Charcoal Black with Smoke Grey, and Blue Grey with Silver Grey. Typically priced a little more than the others, there's also Ink Blue/Ice Grey (also known as the Adidas Edition) and Slate Blue/Burnt Orange.
The Fitbit Ionic keeps to a unisex design and you won't have to worry about choosing specific sizes, as the one-size solution has you covered with an easily adjustable watch strap. Additional bands are an option if you want to mix things up.
Features
Is the Fitbit Ionic a true smartwatch or not? It's a question you're probably asking yourself and, well, we'd say it is - kind of.
It's a smartwatch that's squarely focused on health and fitness rather than being a general all-rounder, and its features support that claim. It's not the strongest of regular smartwatches, but if you want something similar while appreciating you'll use it most working out, its features match up appropriately.
In part, that's noticeable by its design. It has an aluminium-based body and it feels immediately quite lightweight. That's ideal for slipping onto your wrist while taking a run without feeling bogged down by unnecessary heft. It's not as sleek as something like the Apple Watch but that's hardly the end of the world.
Its core features are everything you could want. There's a built-in GPS and heart rate monitoring, both saving the need to take your phone out with you unless you want to. We found both to be reasonably accurate in testing. The built-in GPS was a little slow on the uptake but it got there in the end, and we were impressed at how fast the heart rate monitoring worked.
The Fitbit Ionic is also water-resistant up to 50m which means it's ideal whether you're swimming or simply in the shower or bath.
Whatever you're doing, the Fitbit Ionic keeps an eye on your activities and is pretty smart with it, monitoring accurately what's going on. It has one particularly neat feature that means it automatically pauses when you do - such as when you're waiting to cross a road while jogging.
Tailored workouts are useful here too, giving you feedback on what to work on for next time and adjusting accordingly whether you need to make something easier or harder for another time.
There's also the benefit of being able to upload music to the Fitbit Ionic. You can squeeze in around 300 songs - more than enough for even the longest of cycles or runs - and connect Bluetooth headphones to listen to music (or audiobooks) on the go with minimal hassle. It's a manual process so not ideal compared to simply streaming but it is an option.
There's also Fitbit Pay, which allows you to pay with your watch. It's a useful bonus if you'd prefer to not carry cash or cards while running and working out, although not something that should be relied on given it's not compatible in as many places as something like Apple Pay.
Design
The Fitbit Ionic is a chunky smartwatch. It's lightweight and comfortable but it's designed in a way that we suspect would suit larger wrists over small ones.
That chunky look is also a little conflicting. It's certainly eye-catching but when it's so rectangular-like, we're not so sure it looks as good as something more subtle, like the Apple Watch 5 or Samsung Galaxy Watch. It's certainly more in keeping with the look of a running watch than a daily timepiece.
Either way, it's well-built with an aluminium body that conveys a decent sense of quality, especially for the now lower price. Its buttons are slightly raised which is a neat touch for when you're in a rush and trying not to fumble anything.
Performance
Performance-wise the Fitbit Ionic isn't perfect, with slightly slow to react menus - although we found its raise-to-wake feature pretty responsive at least. The menus can be a bit frustrating when you're trying to do something in a rush, though.
The Fitbit Ionic's touchscreen is fine but a little dated by now.The screen quality isn't up to scratch compared to newer smartwatches but it does the job, and it's not like you'll be paying full price for it any more. Regardless, it's the main thing that's aged the most about the Fitbit Ionic.
Battery life
The Fitbit Ionic's battery is also a bit of a weak point. It averages about four days, maybe five at a push with light use.
Crucially, that's if you don't go near the GPS tracking. Activate GPS tracking and you're looking at more like 10 hours of constant GPS tracking. That's all good and well for a running watch, but for a smartwatch it's a bit of an issue if you plan on also using it to keep on top of notifications and other things going on in your life.
Verdict
The Fitbit Ionic is a curious smartwatch. It's a great premium-priced Fitbit but its attempts at being like a full smartwatch will leave some disappointed. Ultimately, it's a useful device for the health and fitness conscious user, but if you're keen to also have a smartwatch for other purposes, this one feels a little dated and lacking in key features.
At its original price, the Fitbit Ionic would be overpriced by now. Now though, when you can buy it for far less than an original Samsung Galaxy Watch or even an Apple Watch Series 3 (more on these below), it's a tempting proposition providing you know its limitations.
It'll offer a better battery life and superior fitness abilities than the aforementioned two, but it won't look as good on a night out, nor will it be as speedy. It all comes down to what you're willing to compromise on at this price point.
Also consider
Samsung Galaxy Watch Active
A more stylish looking smartwatch, the Samsung Galaxy Watch Active will fit in more on a night out, but we prefer the Fitbit Ionic's fitness features and the fact you can use it while swimming.
Still, if looks are important and you're fine with slightly more simplistic fitness features, you'll like the Samsung option.
Gradually ageing, the Apple Watch Series 3 is still a highly respectable smartwatch. It has GPS and heart rate tracking along with plenty of useful fitness features and a wealth of app options too.
You'll need an iPhone to reap the most benefits but it does make it a more tempting proposition if you can stretch a little further in your budget.
Jennifer is a freelance contributor to Fit & Well. She specializes in health and fitness technology, and has written for titles including for Wareable, TechRadar, Lifewire and others. When not writing for Fit & Well, Jennifer also writes regularly about technology for TechRadar, Mashable, Digital Trends, and TopTenReviews. Her preferred form of exercise is walking, running and lifting (not so impressive) weights, usually backed up by as many interesting apps and fitness wearables as she can summon. In her spare time, she's a keen amateur cook and spends far too much time working her way through every cinema release possible.