MyFit resistance bands review: a great value set of exercise bands
The MyFit Resistance Bands set comes with five levels of weight resistance and an excellent free workout app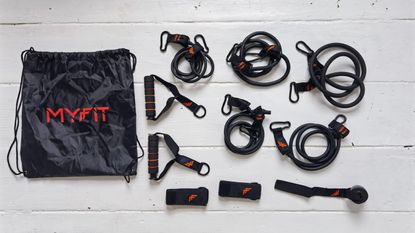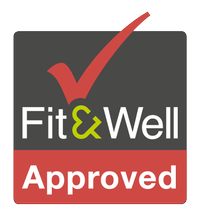 (Image credit: Lee Bell)
The MyFit Resistance Bands set is a really good starting point for anyone looking for a decent set of bands or an alternative to expensive dumbbells. They offer great value for money alongside a decent weights range, and bonus apparatus that will see you exercising just about anywhere. A dedicated app with easy-to-follow (and free) workouts is the icing on the cake.
Reasons to buy
+

Amazing value

+

Versatile

+

Impressive weight range
Reasons to avoid
-

Bands can irritate and rub on skin if not covered

-

Feels a little cheap in places
Welcome to this, Fit&Well's review of the MyFit Resistance Band Set, consistently one of the top-rated sets on Amazon (in the UK, that is - sorry, American readers).
We've said it a million times before and we'll say it again: resistance bands are one of the most convenient, space-saving alternatives to free-weights, especially during times of COVID when gyms are closed, you've got limited space at home and dumbbells are sold out everywhere.
The MyFit set contains some of the best resistance bands I've tried. Offering five different resistances that have a combined weight of 120lbs/55kgs, these bands are joined by handles, feet straps and a door anchor for when you really want to mix up your training. Ideal for not only hitting up those big muscle groups but also targeting isolated muscles that are otherwise quite difficult to train.
MYFIT RESISTANCE BANDS: PRICE AND FEATURES
Purchase the MyFit Resistance Bands set and you'll receive a total of 10 pieces: two sweatproof foam handles, two ankle straps, one door anchor, one community card, five charcoal black resistance bands (in 18kg, 14kg, 11kg, 7kg and 5kg weight rages), and a gym-style carry bag to keep it all in.
The set is available to buy now from Amazon for £22.49. Whilst this is already a bargain considering what you get in the set, the price does fluctuate from time to time (as is often the case on Amazon). Helpfully, our handy shopping widget below will always display the most up-to-date price, so take a look and you may just snag yourself an extra bargain.
Every purchase of the MyFit Resistance Bands set includes access to the MyFit app, which offers over 50 resistance bands exercises that you can follow from the comfort of your smartphone screen.
MYFIT RESISTANCE BANDS: DESIGN
While the MyFit Resistance Bands Set is quite extensive for the price, you'll notice that design does suffer a little. What you won't find here is a high quality finish, but that said, the bands definitely aren't by any means substandard or poorly designed. They may not have the finesse of some of the more expensive bands on the market (such as the FitBeast set, which retails for £44.99), but at under £25 for a complete 10-piece set, you can't really complain.
The bands themselves do feel that they're made from a high quality material. That material is a 100% natural latex made from the hevea brasiliensis tree, which offers utmost durability, strength and flexibility. And you can tell: they feel strong in the hand, and I encountered zero problems with them during my workouts.
What let's them down in terms of look and feel is the straps and carry bag. The strong orange on black colorway doesn't do it any favors either, IMHO.
Nevertheless, the foam handles do feel comfortable on the hand and are definitely big enough to accommodate even extra-large hand sizes. Oh, and in case you're wondering what the "community card" is that comes in the bag with the bands - it's the thing you'll need in order to download the MyFit app.
MYFIT RESISTANCE BANDS: PERFORMANCE
What I really love about the MyFit resistance bands (and most resistance bands, for that matter) is that they are great at helping you to focus your control during condition training while stabilizing your muscles. This makes them ideal for functional training, especially since they're small enough to shove in the carry bag and store away or take with you to just about anywhere.
In my experience of using these bands, they retain a good level of strength even when stretched at high volume. I experienced no breakages, and the foam handles and foot straps held themselves together well, even during hardcore HIIT workouts.
Another impressive thing about this set is that it comes with a free MyFit app, which is regularly updated with new exercises demonstrated by industry professionals and curated for hitting all muscle groups. The app is easy to use and makes the exercises super simple to follow. You can also favorite your preferred sessions and collate a playlist of workouts, making it easier for when you come back for your next sweat sesh.
The only downside performance-wise that I encountered during my time training with MyFit's bands was that they did tend to irritate if rubbed on bare skin on certain parts of the body during a sweaty workout, such as the shoulders. Although this could have been down to my sensitive skin, it's worth keeping an eye out for and maybe not using on bare skin (my bad).
MYFIT RESISTANCE BANDS: VERDICT
At just £22.49, the MyFit Resistance Bands Set is an ideal purchase for anyone looking for a cheap set of resistance bands, or even an alternative to expensive dumbbells. However, these bands don't just offer amazing value for money; they also boast a fantastic range of weights alongside some nifty apparatus that will allow you to complete a host of different exercises and train multiple muscle groups no matter where you are.
Besides feeling a little cheap in places, you can't go far wrong with this MyFit set - especially with the free app bundled in to show you the way when you've run out of ideas for your next exercise routine. Definitely worth a purchase, in my opinion.
Also consider
ODOLAND EXERCISE RESISTANCE BANDS SET
If you're looking to pay a little extra than MyFit's offering for more versatility, then Odoland's resistance bands will give you exactly that. With an easy-to-follow pictorial guide to assist your workout, it's not only ideal for beginners but it features enough levels to keep more experienced users challenged long into their training journey.
This comprehensive kit is a definite winner when it comes to all-round performance, too. All the bands are also colour coded and clearly have the strength marked on them in pounds and kilos, which makes them a doddle to use when you're rushing to grab the next weight between sets. There's a handy ebook training guide included, too.
RESIST FIT RESISTANCE BANDS SET
Resist Fit's set of resistance bands come complete with just about everything you need if you're looking for a complete free-weights workout alternative. With five resistance stretch wires made from upgraded SGS-tested latex, the Resist Fit exercise bands are smooth and comfortable when stretched against your skin, not that you'll notice when you're sweating buckets, mind.
In the box you'll also find two handles, two ankle straps, a door anchor and a carry bag. And unlike the MyFit band set (which retails for the same price), they have a bonus set of five resistance loops, too, to help make those squats unbearably tough. Overall in this set you'll get up to 10 levels of resistance, which will really help you strengthen your upper body, core, and legs for any full body workout.
Lee Bell is a London-based journalist, copywriter, specializing in all things tech and lifestyle. He is also a qualified personal trainer. He started his journalism career a decade ago as a reporter covering the latest gadgets and innovations at tech tabloid The Inquirer. Lee went freelance in 2016 to broaden his expertise, moving into news, reviews and feature writing for a host of national print and online lifestyle titles such as GQ, Forbes, Esquire, Men's Health, Wired, The Metro, and The Mirror. He has an insatiable appetite for travel, Dharma yoga, and the odd outdoor challenge.