Reebok Nano X1 review: a first-rate, all-rounder training shoe
The Reebok Nano X1 is a stylish, supportive and functional fitness shoe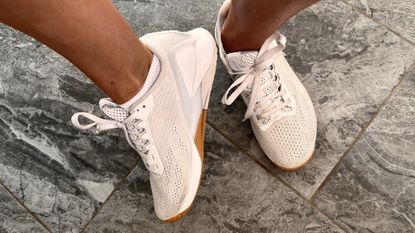 (Image credit: Lucy Gornall)
If you're looking for a pair of training shoes that look great and work for pretty much all workouts, the Reebok Nano X1 are them! Boxing, burpees, weights, short runs and mountain climbers; they're all easy in these supportive, comfortable shoes.
Reasons to buy
+

Good for all workouts

+

Supportive

+

Raised heel for weight-lifting
Reebok has always been notoriously good at producing top-quality training shoes, and the Reebok Nano X1 shoes - released in February this year - are no exception.
I was incredibly excited to try these, as I've been playing the field a bit in my mission to find the best cross training shoes. Having experimented with models by other brands (including Nike and Under Armour), now that I've tried the Nano X1s I'm firmly in the Reebok camp. In this review, I'll explain why.
Although Reebok have previously released training shoes specially tailored to Crossfit workouts, the Nano X1 is a more all-round workout shoe, supposedly good for weight lifting, cardio and HIIT, as well as short runs.
That was certainly my experience during testing. The support they offer is second to none, helping me feel secure throughout all my gym workouts, from jumps, skips, lunges, assault biking and even boxing. A lot of my workouts involve darting around and my feet were stable throughout all of these moves too.
Let's dive into the details of why I rate the Reebok Nano X1 cross-training shoes so highly...
Reebok Nano X1: price and features
As the brand's latest release, the Reebok Nano X1 shoes don't exactly ring-in cheap, retailing at $130/£100. That puts them at the more expensive end of the training shoe market, but in my opinion they're worth it.
I tested them in cloud white/true grey, but there are wealth of colors to choose from: eight options for women and nine for men. Variations on the core X1 shoe include the X1 Grit, for extra-demanding workouts, a collaboration with workout brand Les Mills, and a vegan edition.
Reebok Nano X1: Design and technology
Whichever pair you opt for, they all come with the great looks of the majority of Reebok shoes, as well as Floatride Energy Foam in the toe section for responsiveness during movements. There's also a lightweight heel clip provides stability for quick movement in all directions. Meanwhile, the upper is made from Reebok's comfortable and - crucially - breathable Flexweave knit.
Looks-wise, they're definitely one of the chicer pairs of training shoes I've tried - I happily wore them to meet friends for coffee post-workout. The branding is discreet and the muted colors blended into my workout outfit seamlessly (not like some of the garish options out there).
Reebok Nano X1: Feel, fit and comfort
I do often find with Reebok that the sizes come up a little big. I am typically a UK size 6 (US size 8), and tend to find with Reebok that I am a size 5.5 (US size 7.5).
However, these fitted my size 6 feet perfectly. Getting them on is easy, as is taking them off. When they're on, they feel snug and light; my feet weren't weighed down with my shoes, which made HIIT workouts involving jumps and leaps far easier.
During my workout, my feet had wiggle room but also felt stable during a heavy squat. As I've found to be typical of Reebok shoes, the toe area of the Nano X1s is fairly wide, so my toes were able to press down on the floor, allowing for better balance and grip on the ground. The toe is also slightly lifted from the ground; I found this really useful for any plank-based moves where my body is balancing on my toes.
I was also a big fan of the heel of this shoe; it's cushioned but firm - essential for training where you need stability for heavy lifts. There is also a heel click for stability.
Reebok Nano X1: Support
I wore the Reebok Nano X1s while squatting with a barbell on my back; a big test when it comes to how stable and supportive any training shoes really are. My feet didn't collapse inwards as I pushed back up to standing from my squat, which is just what I was looking for in terms of support.
They're also supportive around the ankle, so I felt comfortable and confident doing box jumps and darting around cones during a circuit training session.
Overall, the secure fit helped put my mind at ease and really commit to my workouts - I've twisted my ankle in the past, so I'm always a little wary of it happening again. But in these shoes I was able to give my all, confident in the support they provide.
Reebok Nano X1: verdict
I massively rate these training shoes. They're great for HIIT and circuit workouts as well as weight lifting. (My only caveat to that would be if you plan on lifting really heavy weights - then actual weight-lifting shoes would likely be better.)
They're even comfortable enough for short runs, but I wouldn't do more than a few kilometres in these before switching to actual running trainers (check out our pick of the best running shoes for men and running shoes for women, if that's what you're in the market for).
The heel is just the right height for lifting weights too and the toe end, being slightly raised from the floor, really helps with so many movements that involve balancing on your toes such as burpees, plank, mountain climbers.
Overall, these shoes are light, breathable and chic to boot. And if you've got this far and you're still not convinced, this final fact should do it for you: the laces stay done up at all times too.
ALSO CONSIDER
A cheaper alternative, the Under Armour HOVR Rise 2 training shoes are comfortable for the majority of HIIT, lifting and circuit workouts. They also support the ankles thanks to them having more of a boot-style ankle support.
One of the big plus points to the Nike Metcon 5 cross-training shoes is that they come with an extra Hyperlift insert. This makes them ideal for lifting as they raise the heel slightly. They're very stable, however they can be a little stiff - not ideal for higher intensity workouts that involve more jumps.
Get the Fit&Well Newsletter
Start your week with achievable workout ideas, health tips and wellbeing advice in your inbox.
Lucy is a freelance journalist specializing in health, fitness and lifestyle. She was previously the Health and Fitness Editor across various women's magazines, including Woman&Home, Woman and Woman's Own as well as Editor of Feel Good You. She has also previously written for titles including Now, Look, Cosmopolitan, GQ, Red and The Sun.
She lives and breathes all things fitness; working out every morning with a mix of running, weights, boxing and long walks. Lucy is a Level 3 personal trainer and teaches classes at various London studios. Plus, she's pre- and post-natal trained and helps new mums get back into fitness after the birth of their baby. Lucy claims that good sleep, plenty of food and a healthy gut (seriously, it's an obsession) are the key to maintaining energy and exercising efficiently. Saying this, she's partial to many classes of champagne and tequila on the rocks whilst out with her friends.