I got my hands on the Saucony Men's Ride 15s and my regular running shoes haven't had a look-in since
The Saucony Men's Ride 15 – so comfortable you'll never want to take them off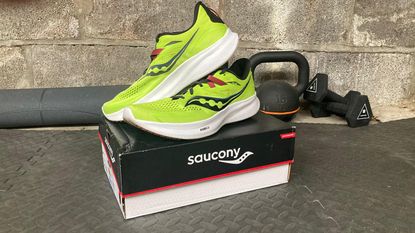 (Image credit: Future)
An outrageously comfortable everyday running shoe that juggles cushioning, support and a lightweight design to deliver stellar all-round performance for runners with a neutral gait.
Reasons to buy
+

Lightweight and cushioned

+

Wide base provides stability

+

Comfortable out-the-box
Reasons to avoid
-

Sole isn't too reactive for fast runs

-

Signs of wear on the outsole after 30km
Rarely can a running shoe balance comfort, style, support, responsiveness and stability, all without weighing over the odds – yet the Saucony Men's Ride 15 manages this without breaking stride.
Having racked up more than 30 kilometers in the neutral everyday running shoes during an intense testing period, it's safe to say we're big fans. It's no surprise, then, that they can be found near the summit of our best running shoes for men roundup.
Saucony adopts a "comfort-first" approach with this shoe, but doesn't sacrifice performance in the process. The updated PWRRUN foam midsole is both more cushioned and lighter than the material used in previous models, and a plush new padded PWRRUN+ insole only adds to the pillowy feeling provided.
However, the soles aren't so soft that they sap your energy. You may want a firmer feel for speedwork and anything faster-paced under 5k, but we found the Ride 15s were reactive enough for quicker middle-distance runs, while also keeping our knees onside during easy miles and longer pieces – just what you want from an everyday running shoe.
The breathable upper is accommodating for wider feet, though it also features clever straps that wrap around your midfoot and connect to the laces. These allowed me to tighten the sides of the shoes around my narrow feet with no bunching of material in the forefoot, ensuring a secure fit. The tongue and heel are lightly padded too, so I was able to take these for a run straight out the box without worrying about rubbing or blisters.
So, whether you're wondering how to get into running or you're a seasoned strider, the Saucony Men's Ride 15 is a top option for keeping you cool and comfortable as you rack up the miles.
Saucony Men's Ride 15: price and features
The Saucony Ride 15 has an MSRP of $140 in the US or £130 in the UK, which is slightly pricier than rival everyday running shoes like the Asics Novablast 2 and Nike Air Zoom Structure 24. It can be bought from the Saucony website, as well as a wide range of online retailers, and is available in four designs (acid lime and spice, black and white, cool mint and zest, and sapphire and vizired).
I tested a pair of UK10s in the acid lime and spice colorway which (as you'd expect from the name) were particularly eye-catching. This might not be to the taste of more modest runners, but I quite liked the splash of color they added to my often-drab black and blue running outfits.
The build of the shoe is, on the face of things, quite basic: a breathable mesh upper sitting atop a generous wedge of foam cushioning. But don't mistake this for a bad thing, there's a reason this tried and tested formula has stood the test of time. Namely, it's comfortable and effective.
There are a few fancy features to be enjoyed too. The previously mentioned PWRRUN midsole is softer and lighter than the foam used for the Ride 14, and a padded PWRRUN+ insole adds to the cushioned feel of the shoe. The result? Unquestionable comfort, even on hard, unforgiving surfaces.
The FORMFIT upper, which features nifty straps around the midfoot, is designed to provide a personalized fit, and a more flexible forefoot allows you to transition naturally from heel to toe.
Saucony Men's Ride 15: design and technology
The brands responsible for running shoes often give their latest innovations impressive-sounding names that mean little to the average consumer – Saucony's PWRRUN midsole, PWRRUN+ insole and FORMFIT upper all being pertinent examples.
But, now you're familiar with the features offered by the Saucony Men's Ride 15, it's time to look past the jargon and see what these terms mean for performance.
The PWRRUN midsole and PWRRUN+ insole provide a generous amount of cushioning, meaning we didn't need to worry about our knees bearing the brunt of each stride on hard surfaces like tarmac. This soft ride is great for medium and long distances, keeping our joints feeling fresh as we passed the 10k mark.
However, the revamped foam isn't so soft that you'll feel like there are marshmallows strapped to the soles of your feet. Saucony claims the PWRRUN sole provides "just-right softness", balancing comfort with reactiveness so your steps still feel energized. Having put this claim to the test, we're happy to report they're not wrong.
As an everyday trainer, you wouldn't use these for faster runs – that's the domain of the whippet quick Saucony Kinvara 12. They're instead intended for easy miles, recovery runs and endurance sessions over greater distances, and in these areas they truly shine.
The foam has a good amount of bounce, helping our sometimes sluggish steps retain a springy feel towards the latter stages of our runs. The 8mm drop is sufficient for encouraging a smooth heel-to-toe transition, and the midsole is flared around the forefoot and heel to encourage a neutral stride.
Finally, to improve the durability of the shoe without adding too much extra weight, thin strips of harder rubber have been added to key impact areas on the outsole. We found there were a few signs of wear and tear after around 30km of testing, with small amounts of chipping visible in the rubber, but this didn't impact performance.
Saucony Men's Ride 15: fit, feel and comfort
At risk of sounding like a broken record: comfort really is the name of the game for the Saucony Men's Ride 15.
In the interests of comprehensive testing, I took them out for an interval session, 5k, easy miles and a couple of longer runs. As an everyday running shoe, not all of these runs play to their strengths. But, understanding that many people want a single pair of runners to cover all bases, I decided to see how they fared.
As expected, they performed admirably (if not excelling) on runs that feel outside their area of expertise. Shorter, faster sessions felt cushioned and comfortable, but they didn't have the responsive feel that comes with firmer footwear (and their provision of speed-based features like a carbon plate).
Instead, medium-long distance runs are their bread and butter; we were able to eat up the miles without sparing a second thought for niggling knees or aching soles.
However, as much as underfoot support matters, it means nothing if it isn't complemented by a comfortable upper. Luckily, the Saucony Men's Ride 15 is blessed with both.
The upper is made from a lightweight, breathable mesh built with "minimized layers for a sleek fit". Having taken them for a fast 5k on a searing hot summer's day, we can vouch for their breathability credentials, with our feet remaining remarkably cool throughout the run.
They're accommodating too. At first glance, they may look like a wider shoe, but thanks to Saucony's FORMFIT architecture (including clever straps that wrap around the midfoot) I was able to tighten the sides of the shoes around my narrow feet without causing any bunching elsewhere in the upper.
Padding on the heel and underside of the tongue meant slipping them on for the first time felt like wearing a slipper. We were able to wear them straight out of the box with no breaking in period, and our achilles remained blissfully blister-free. Yet, unlike the Nike Air Zoom Structure 24, this added padding didn't come at the expense of added weight, with the 8.8oz (249g) shoes feeling feather light on our feet – something we were grateful for on longer runs.
Saucony Men's Ride 15: support
While it is a neutral running shoe without any glaring stability features, the Saucony Men's Ride 15 does have a few tricks up its sleeve to keep your strides on the straight and narrow.
The midsole is flared (wider than the upper) around the heel and forefoot, providing a stable base and encouraging a neutral stride. There is also more underfoot contouring, allowing your foot to sit deeper in the shoe. So, while the stack may look high from the outside, the foam sidewalls actually rise above where your foot sits, increasing the support on offer for anyone with a tendency to excessive pronation or supination.
These features complemented the soft yet responsive ride of the shoes and malleable mesh upper, again finding that "just right" balance between offering a natural and secure fit.
Saucony Men's Ride 15: user reviews
The Saucony Men's Ride 15 scores 4.6 out of a possible five stars on the Saucony website, though only around 30 buyers have submitted reviews. Users describe them as "the perfect daily trainer" and "the best trainers I've ever used", praising their comfort, cushioning, stability and lightweight design. A few runners said they reserved it for longer runs due to its softer midsole, but that was the closest most came to criticism.
Saucony Men's Ride 15: verdict
As a fitness tester, running shoes aren't in short supply. But if I was told today that I had to whittle my collection down to a single set of sneakers, it would be the Saucony Men's Ride 15 – I haven't used another pair since they arrived at my door.
It's an excellent everyday running shoe that balances stability, support and comfort while providing a responsive ride considering the generous amount of cushioning on offer. This makes it fantastically versatile, able to turn its hand to medium and long distances, recovery runs and easy miles. And, though they can't match the speed and reactiveness of race-day running shoes, the soft yet surprisingly responsive sole will let you put your foot down for a faster pace over medium distances.
The upper is accommodating and breathable, the padded heel and tongue make them comfortable from the off, and they don't look half bad either. So, all-in-all, this is a stellar showing from the brand.
Also consider
Brooks Ghost 13
If you want a versatile everyday running shoe but don't want to pay over the odds, the Brooks Ghost 13 is a top option. You can snap a pair up for under £100 (or around $125USD) from several online retailers, yet they still offer the comfortable, cushioned ride you want from a daily sneaker.
Saucony Kinvara 12
The Ride 15 is a brilliant runner, but we wouldn't describe it as a quick shoe. If you prefer living life in the fast lane, turn instead to its speedy sister: the Saucony Kinvara 12. This slim, lightweight sneaker caters to runners with a natural gait, providing the comfort and support you need to smash your PBs.
Get the Fit&Well Newsletter
Start your week with achievable workout ideas, health tips and wellbeing advice in your inbox.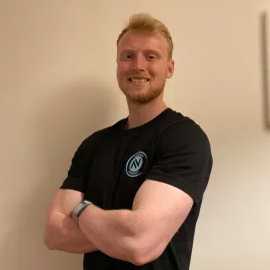 Harry Bullmore is a Fitness Writer for Fit&Well and its sister site Coach, covering accessible home workouts, strength training session, and yoga routines. He joined the team from Hearst, where he reviewed products for Men's Health, Women's Health, and Runner's World. He is passionate about the physical and mental benefits of exercise, and splits his time between weightlifting, CrossFit, and gymnastics, which he does to build strength, boost his wellbeing, and have fun.
Harry is a NCTJ-qualified journalist, and has written for Vice, Learning Disability Today, and The Argus, where he was a crime, politics, and sports reporter for several UK regional and national newspapers.