The Hydrow Wave might just be better than the original (and it's $1,000 cheaper too)
I tested the new Hydrow Wave, a smaller, more affordable alternative to the brand's first rowing machine – these were my thoughts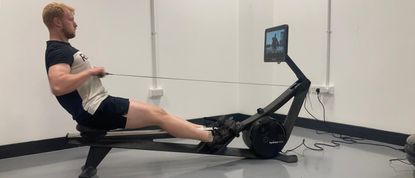 (Image credit: Harry Bullmore)
The Hydrow Wave offers the same excellent features of the original Hydrow Rower, with all the video tutorials and expert-led on-water workouts that made us fall in love with rowing in the first place (while boosting our fitness). However, where the brand's first rowing machine fell down slightly for its bulky build and high price tag, this updated model comes in a comparably compact and affordable package.
Reasons to buy
+

Engaging and immersive follow-along workouts

+

Accessible with great video tutorials to teach you technique

+

Low impact and comfortable to use
Reasons to avoid
-

Not foldable

-

Monthly subscription required
Get the Fit&Well Newsletter
Start your week with achievable workout ideas, health tips and wellbeing advice in your inbox.
Thank you for signing up to Fit And Well. You will receive a verification email shortly.
There was a problem. Please refresh the page and try again.
When something sounds too good to be true, there's usually a catch, but I'm yet to find one with Hydrow's new, cheaper and more compact rowing machine: the Hydrow Wave. Let me explain…
We tested (and were mightily impressed by) the original Hydrow Rower earlier this year, listing it as one of the best rowing machines you can buy. It quickly won us over with its immersive workouts and fun, informative approach to rowing that made the sport accessible for all ability levels – great news for newcomers, considering the multitude of rowing machine benefits. However, its bulky frame and high price tag may have deterred some would-be buyers.
Then the brand announced the release of the Hydrow Wave; an all-new rowing machine that was not only smaller than its predecessor, but also $1,000 cheaper, with an MSRP of $1,495. And, having got my hands on one of the machines ahead of its UK release, I was not disappointed.
The charms of the original Hydrow Rower were still present in all their glory, with the fantastic app access, video tutorials, live workouts, likable instructors and more available through a (slightly smaller) 16in touchscreen. The unique computer-controlled electromagnetic resistance system also remained, providing the realistic dynamic rowing experience of an air-based machine without the usual noisiness. Here's what we made of it after testing.
Hydrow Wave: Price and Features
One of the most attractive features of the new Hydrow Wave is its significantly lower price. With an MSRP of $1,495/ £1395, it now costs considerably less than the original Hydrow Rower – a price drop that also makes it more affordable than many smart rowers like the NordicTrack RW900.
You do have to pay $38/£38 a month subscription fee if you want unlimited access to the huge resource of rowing sessions available on the Hydrow platform. But if this style of workout fits your lifestyle, this expense makes sense.
When it comes to features, I struggled to find many compromises from the full-price Hydrow Rower. The machine maintains the original's impressive electromagnetic resistance system, and it still has a HD touchscreen. This is slightly smaller than before, down from 22in to 16in, but I found I barely noticed the difference when engrossed and exhausted in classes.
The frame has been downsized too, now 6in shorter, 6in narrower and 4in lower than its predecessor. This makes it more space-savvy, though it's still not foldable. You can store it upright to save floor space when it's not in use, but you'll need to invest in the Hydrow Upright Storage Kit to do this.
Most importantly, the app access remains intact. With a staggering 4,300-plus workouts at the time of testing, the platform is crammed full of video tutorials, expert-led virtual rows and live sessions, as well as off-rower strength, core, yoga and Pilates classes.
Hydrow Wave Review: Design and Assembly
Putting the Hydrow Wave together isn't a particularly tricky process. A clear set of instructions included in the box walk you through the simple enough procedure, with seven main pieces (the monitor arm, monitor, frame, seat, rail, foot plates and front foot) needing to be connected.
However, I must admit, my job was made even easier as the machine I tested was assembled by the delivery team upon arrival.
I found the design simple but effective. Understandably given the revised price tag, some of the solid metal structures of the original Hydrow have been replaced with a criss-crossed plastic frame, but this still felt equally as robust than most rowing machines I've tried. This decision also shaved weight off the machine, which is now a more svelte 102lb, making it more maneuverable. Wheels on the front foot make wheeling it from room to room a low-effort exploit too.
The overall profile is sleek, and Hydrow has given its new machine a dark gray paint job with a textured finish on the rail, which I felt was effective in maintaining the brand's premium look and feel.
Hydrow Wave: Performance
Rather than the somewhat uninspiring dashboards of most gym treadmills, or Peloton's brightly-lit studio classes, Hydrow instead focuses on replicating the rowing experience. It does this by taking you out on the water with expert coaches including Olympic rower Aquil Abdullah and former US national triathlon team member Nick Karwoski.
Mingling regular pearls of wisdom with amiable patter, these likable instructors focus on helping you improve your technique to boost your performance. There are plenty of challenging workouts for seasoned exercisers, but Hydrow also has fantastic resources in place for beginners. For example, a video tutorial series is available to teach you everything from the fundamentals of rowing to tips and tricks for shaving seconds off your PBs.
And if you fancy mixing up your workout routine by hopping off the rower, there are plenty of alternative classes available including yoga, Pilates, strength sessions, core work, HIIT and more. Many of these are led by strength and conditioning coach Peter Donohoe (who just happens to be a two-time Olympic bobsledder, for anyone querying his qualifications).
I found the one-to-one coaching and picturesque real-world locations – from Loch Ness to Miami – more immersive and engaging than most exercise machines I've tried. And, while studio classes are undeniably effective when it comes to a one-time sweat-fest, the Hydrow's emphasis on improving my performance motivated me to keep coming back for more.
Now, on to the actual rowing machine itself. I was more apprehensive about this element of the testing process, concerned corners may have been cut to lessen the size, weight and cost of the product. However, within a few strokes of my first workout, these worries dissipated. The resistance worked smoothly to create a dynamic rowing experience and despite the machine's smaller dimensions the rail still allowed me (at 6ft 2in tall) to fully extend my legs with each stroke.
The cushioned seat felt comfortable during longer sessions too, which is always a big plus in my eyes.
Hydrow Wave Review: Tech and data
The reason many people choose to swerve magnetic rowers like the Hydrow in favor of air or water-based machines (like the Concept2 RowErg or the Waterrower Natural) is they don't offer a dynamic stroke. Or, in other words, they can't emulate the on-water feeling where the more force you put into your pull, the more resistance you are met with. However, Hydrow's clever computer-controlled electromagnetic mechanism does just this. So, the more you put into your workout, the more you'll get out.
I found this offered a smooth and realistic stroke action similar to the trusty Concept 2 which sits in my home gym, and is widely considered the gold standard for rowing machines. However, the Hydrow made a fraction of the noise – something that will delight neighbors and family members alike, if you're partial to an unsociable hour workout.
With the Hydrow Wave's focus on replicating a realistic rowing experience, and improving your performance as a result, it makes sense that the machine gives you plenty of metrics to track your performance. As you row, data on your stroke rate, average 500m split time, total distance, calories burned and more is displayed around the screen. You also have the option to see a live leaderboard showing how you compare to other Hydrow-users around the world – a fantastic motivator for competitive sorts.
Hydrow Wave Review: Verdict
Honestly, it's hard to find fault with the Hydrow Wave. It has all the smart features of the inaugural Hydrow Rower while addressing the original machine's significant size and weight. What's more, it does all this while cutting $1,000 off the price tag of its predecessor. It looks smart, and profits from a clever electromagnetic resistance system that delivers a realistic rowing experience without the noise that comes with its air rower rivals. Excellent video tutorials make it a great choice for beginners looking for a fun new way to get their fitness fix. But, don't be fooled, there are plenty of challenging sessions to keep ardent exercisers on their toes too.
Also consider
Concept2 RowErg
If you're a seasoned rower, chances are you'll want the Concept2 RowErg – the industry standard when it comes to rowing machines. Robust, reliable and refreshingly simple, this machine has everything you need for a great workout. It has some preset sessions, but the RowErg is best when you approach it with a preconceived plan, whether that's a class programmed by your coach or a workout you've found online. It doesn't need to be plugged into a mains outlet either, making it a great fit for sheds, garages or even al fresco sessions if the weather allows it.
Echelon Smart Rower
Anyone after a smart rower for under $1,000 should keep an eye out for the Echelon Smart Rower. While it doesn't have a touchscreen like its Hydrow and NordicTrack rivals, you can connect your phone or tablet to the Echelon App and place it in a specially designed holster above the fan cage to enjoy live and on-demand follow-along workouts.
Get the Fit&Well Newsletter
Start your week with achievable workout ideas, health tips and wellbeing advice in your inbox.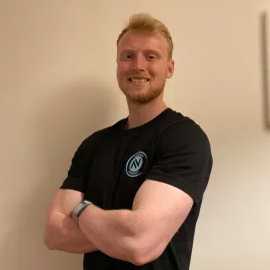 Harry Bullmore is a Fitness Writer for Fit&Well and its sister site Coach, covering accessible home workouts, strength training session, and yoga routines. He joined the team from Hearst, where he reviewed products for Men's Health, Women's Health, and Runner's World. He is passionate about the physical and mental benefits of exercise, and splits his time between weightlifting, CrossFit, and gymnastics, which he does to build strength, boost his wellbeing, and have fun.
Harry is a NCTJ-qualified journalist, and has written for Vice, Learning Disability Today, and The Argus, where he was a crime, politics, and sports reporter for several UK regional and national newspapers.