Fitbit Charge 4 review: a decent fitness tracker suited to light use
The Fitbit Charge 4 comes with full GPS and heart rate zone tracking, making it great for casual users who want a fitness tracker that will motivate them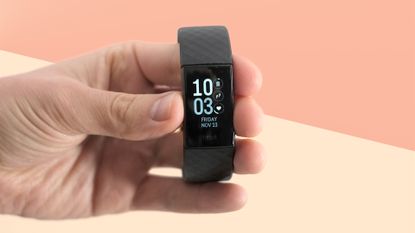 (Image credit: Andrew Williams)
You can think of the Fitbit Charge 4 as either Fitbit's most expensive fitness band or as the cheapest Fitbit with Full GPS. It's comfortable, smaller than a full-size fitness watch and excels at keeping you motivated to work out each day if you're more a step-counter than a runner. However, it's not particularly well-suited to those who consider fitness a hobby. The Charge 4's heart rate sensor is not particularly good and short battery life when using GPS is bad news for the hikers, all-day walkers and marathon trainers out there.
Reasons to buy
+

Fitbit makes fitness tracking more fun than most

+

New Active Zone Minutes feature is a neat addition

+

Has a Spotify app
Reasons to avoid
-

Unreliable heart rate sensor

-

Poor battery life when using GPS

-

Screen tech is showing its age

-

Spotify support more limited than you'd hope
Hello and welcome to my Fitbit Charge 4 review for Fit&Well!
The Fitbit Charge 4 was released in March 2020, and followed in the footsteps of it's predecessor, the Charge 3. A key upgrade from the Charge 3 to the Charge 4 is the latter's Active Zone Minutes feature, which tracks time spent in the fat burn, cardio, or peak heart-rate zones. The Charge 4 also has full GPS built-in to the device, an improvement on the Charge 3, which requires users to carry their phone on them for tracking purposes.
However, do these developments put the Fitbit Charge 4 into the realm of the best fitness trackers - or even the best Fitbits - on the market today? The answer, in my experience, is yes and no. Whilst this is a undoubtedly a great Fitbit, it's not without its limitations - read on to discover more.
Fitbit Charge 4: price and availability
The Fitbit Charge 4 launched with an RRP of $124.99/£129.99. A Special Edition model is also available (with a fetching fabric, rather than rubber, strap), which originally retailed at $160/£149.99.
That is a little under twice the price of the Inspire HR, putting it in contention with fitness trackers like the Huawei Watch Fit, Garmin models such as the Forerunner 45 or Vivosport, and Fitbit's own Versa Lite.
However, nowadays you can generally find good Fitbit Charge deals available, making thee
You'd choose the Charge 4 over the Versa because it has full GPS, which shows you a map of your runs and walks in the Fitbit app after you're finished. But in today's day and age, I find the Charge's heart rate readings and GPS battery life disappointing, limiting the appeal of what should be an enthusiast's upgrade.
Fitbit Charge 4: Health & fitness features
Exercise tracking
Fitbit does not overload the Charge 4 with tracking modes. There are six, a world away from the 90-something of the Huawei Watch Fit.
The options are run, bike, swim, treadmill, outdoor workout and walk. If you want to get a record of your heart rate while on the exercise bike, you can use "bike" and switch off GPS tracking, an option in all the outdoorsy modes.
What you see on the Fitbit Charge 4 screen when you go for a run is not customizable. There's a tiny view of the time elapsed at the bottom, a small distance tally up top. And the rest of the screen is occupied by a single, much larger stat. You flick between them with a screen swipe.
The issue here is not so much that one metric bogarts the display, but that you can't customize the stats allowed in. In the run tracker, there are nine stats to scroll through, which feels laborious if you just want to check your heart rate quickly during a run.
I get the sense that Fitbit expects most of us not to actually use the on-watch stats too much, and largely rely on the summary you get in the Fitbit app post-workout (more on that below). If you're after the runner's equivalent of an exercise computer, I find the Huawei Watch Fit better for the purpose.
Heart rate tracking
The Fitbit Charge 4's heart rate sensor also disappoints. I monitored its performance over a 5km run, an indoor bike ride and a 17km walk, and during the first two its HR results were very laggy.
It's slow to respond to changes in effort, even when it has the cadence indicators of a run to signpost your heart rate is probably going up.
During the run I changed pace a bunch of times to end up with an HR graph that looks like a choppy sea. The Fitbit Charge's HR lag meant it only recorded an average heart rate of 131bpm, where my Wahoo chest strap (one of Fit&Well's top-rated best heart rate monitors) recorded 138bpm.
Fitbit's results graph is also something of a choppy mess. I actually expected a worse final graph after regularly looking at the Charge 4 mid-workout to find, several times, its reading around 120bpm when I was amid a 160bpm-plus effort.
Fitbit needs to upgrade the HR hardware of its Charge series next time around, as it was shown up by the Xiaomi Smart Band 5 - a $40/£30 fitness tracker. It's disappointing in a £125/£130 band.
The experience is better for low-key exercise, as the Fitbit Charge 4 has on-screen prompts that tell you when you reach a new heart rate zone. This might give you some pep if you tend to power-walk around town rather than run.
All-day heart rate readings seems fine too, capable of showing you a reliable enough resting heart rate figure.
Fitbit App
Fitbits offer some of the best motivation boosts among fitness trackers, geared-up for people just looking to get moving a little more rather than to train for a marathon. This all happens in the Fitbit app rather than on the Charge 4 itself.
You can sign up to groups, which are a little like Facebook groups, where people post pics and activity updates. Or map your daily stats against treks in real-world locations, like the Pohono trail in California.
The real fun starts the you sign up to a Fitbit Challenge with a bunch of friends. These are classic competitive races where steps are the currency. It's some of the most fun you can have with a fitness tracker. Fitbit does this stuff better than just about anyone.
Fitbit Premium
Some challenges live behind the Fitbit Premium paywall, which costs $9.99/£7.99 a month. This may seem a little steep if you want a Charge 4 because it's relatively affordable, but the tab-based interface of the Fitbit app means this premium content is not shoved in your face too much.
For that $10 a month you get training and nutrition plans that last for up to three weeks each. And there's a 90-day free trial if you want to try it out.
The Fitbit Charge 4 does not seem half-baked if you completely ignore the guided plans, challenges and little motivational extras. The front page of the Fitbit app is a stats screen similar to that of all the other big fitness brands. It's what I head to 95% of the time, after 10 years of using Fitbits, on and off.
Fitbit Charge 4: Other features
Spotify connectivity
Spotify control is one of the Charge 4 features that first caught my attention. This is the sort of thing you might get in a smartwatch, but it's rare in a simpler fitness tracker like this.
It lets you switch between playlists and albums you recently listened to, and even bounce Spotify between your laptop, phone any smart speakers that can hook up to the service natively. You can pause and skip tracks too, of course.
However, I'm ultimately a little disappointed by the Charge 4's Spotify app as it is not much use during a workout. Start a tracked session and you lose all access to Spotify control because the tracker can only use either of these features, not both at the same time.
In more advanced trackers you might see a Spotify control page within the workout view, but not so here.
The Fitbit Charge 4 also does none of the music playback. It can't connect to wireless headphones either, it just acts as a remote control of sorts. So even if you could use it during a workout, you'd still need your phone. Volume control isn't available either.
Still, it's a neat feature if you listen to Spotify while you cook dinner and want to skip a track.
Advanced notifications
The Fitbit Charge 4 also has more advanced notifications support than most of its fitness band rivals. Almost any tracker can receive notifications from any app you like these days but the Charge also lets you send quick replies, which you pre-write in the app on your phone.
This might be useful if you tend to go for a run on your lunch break but still need to be on top of your WhatsApp messages with colleagues.
The screen does a fair job of showing messages, with enough room to show a good fistful of words at once. However, it's not great at handling streams of WhatsApp messages, for which you'll want to dig out your phone again.
Fitbit Pay
The Fitbit Charge has similar extras to the other non-smartwatch Fitbits. There are timers, a weather report, mini guided breathing exercises and alarms.
Fitbit Pay is the most significant extra. This lets you pay for items using the band's NFC chip, by holding it to the contactless terminal. Check out the list of supported banks on the Fitbit website before buying into it, though, because the UK roster is fairly limited.
Fitbit Charge 4: battery life
You may want to switch GPS off for some exercise, as it kills the Charge 4's battery. Fitbit says a charge will last for five hours of GPS tracking, but even that may be optimistic.
I started a long weekend walk with 72% battery, at 11:16am, fairly confident it would last just fine for what would be a few hours of tracking. However, it was dead before 2pm and seemed to have given up actually tracking GPS a while earlier.
Losing 72% charge in under three hours suggests a full charge will last under four hours of GPS tracking. Later on I tried tracking a 25-minute run and it lost 10%, suggesting battery life of a little over four hours.
Whatever way you look at it, this is not good stamina and means the Fitbit Charge 4 is pretty useless for GPS-tracked hiking. Stamina improves if you use the "dynamic GPS" setting, which uses your phone's location data when available. However, this also means you aren't using the main substantive feature that separates the Charge 4 from the Inspire HR: full GPS.
Battery life is much better if you don't use GPS, at 5-7 days depending on how much you look at the screen and interact with the band. As in many other areas, this tracker excels at the light stuff.
Fitbit Charge 4: Design
The Fitbit Charge 4 is very comfortable to wear. It's a reasonably petite band of plastic and silicone (and glass), one much more svelte than the old Fitbit Surge series.
I could happily wear it 24/7 without feeling the need to take it off, which happens with a lot of larger fitness watches. 5ATM water resistance means it's fine in the shower, or even the swimming pool.
Loads of third-party straps are available too, should you want to give your Charge 4 a different look or feel. This is good in my eyes, as I'm not a big fan of the standard strap. While comfy enough, there are wide seams between the watch face and the strap, which make the thing look like it's about to fall apart at the seams.
Fitbit Charge 4: Verdict
The Fitbit Charge 4 works best as a light fitness tracker, an "Inspire HR plus". You get the motivational prods of the Fitbit platform with a larger screen and full GPS.
However, there are some issues that make it harder to recommend for those who exercise regularly. Battery life when using GPS is poor, at somewhere between 3.5 to 4.25 hours according to our testing. That is less than Fitbit's own humble claim of five hours.
The heart rate sensor is not good enough for interval style workouts, with a slow response. Much cheaper bands do better. It's time for Fitbit to give the Charge range a more comprehensive refresh. The reasons it has not already are obvious, with the Versa series now only a little higher in cost. But there are now better band out there vying for your money.
Also consider
Huawei Watch Fit
At the same price, the Huawei Watch Fit offers a full color screen, a more reliable heart rate sensor and far better battery life. Not everyone will appreciate its smartwatch "lite" style, but you get more for your money.
Garmin Vivosport
Garmin's golden oldie the Vivosport is now available for less money. It has an even smaller screen and doesn't handle things like notifications as well as the Fitbit. But we prefer the Garmin for most forms of tracking, particularly hikes, as the battery holds out longer when using GPS.
Fitbit Inspire HR
Fitbit's step-down tracker is the Inspire HR. It's smaller, but has Connected GPS so can still be used for full run tracking if you take your phone. However, the display is dimmer and it doesn't have the Charge 4's heart rate zone alert feature.
Get the Fit&Well Newsletter
Start your week with achievable workout ideas, health tips and wellbeing advice in your inbox.
Andrew is a freelance contributor to Fit&Well. He has written about health and fitness for more than a decade, specializing in consumer tech. When not testing fitness tech for Fit&Well he writes about fitness for Forbes and contributes to publications including WIRED, TechRadar, Stuff, Trusted Reviews and others. Andrew runs to keep fit, and can often be round jogging around the parks of South London with several wearables and a heart rate strap attached. He also enjoys indoor cycling, using a turbo trainer and platforms like Zwift to get some kilometers in while avoiding London's busy streets.