Puma Fuse review: a brilliant gym shoe that won't break the bank
The Puma Fuse are great workout shoes but the design won't be for everyone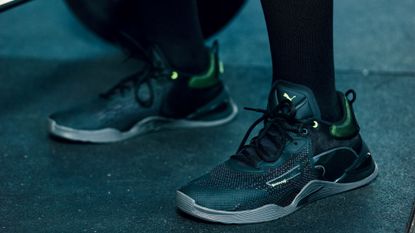 (Image credit: Puma)
The Puma Fuse is a versatile gym shoe that - unlike many of its counterparts - won't cost you the earth. Offering just about everything the average gym-goer needs, especially those who are fans of HIIT, Puma's debut functional fitness trainer definitely has our vote.
Reasons to buy
+

Price more accessible than competitors

+

Solid construction offers great support
Reasons to avoid
-

Busy design not to everyone's taste

-

Midfoot a little too narrow
The Puma Fuse shoes are aimed at those who like to throw themselves around fitness studios under the watchful eye of a trained professional and a ticking clock. This means the shoes have been built to be stable enough for lifting, light enough to be agile, and durable enough to take on some intense friction in the form of rope climbs, burpees, and box jumps. What sets them apart, however, is the price as they are more affordable than their competitors But does the lower price point mean they lack in other respects, such as performance? And are they worthy of a place in our round up of the best cross training shoes around? We've put them to the test to find out.
Functional fitness has become quite a substantial part of the health and fitness market over the past decade or so. Naturally, we've seen a massive influx in the availability of gym shoes designed specifically for this activity by well-known sports firms. Take the Reebok Nano X1 or the Nike Metcon 5, for example, which have been constructed especially to support users doing high-impact activities such as HIIT classes and CrossFit. It might be a few years late to the party, but German sports company Puma has given it a go, too, launching its first ever sneaker dedicated to functional fitness earlier this year - the Fuse.
Puma Fuse review: price and availability
At launch, the shoes came in a choice of three different colorways (black, white, and black with pink accents).
Regardless of the color, the shoe's design is still rather garish, if you ask us. This is the only major downside about the Fuse. It's overly stylized and the range is crying out for something a little more minimal.
The Fuse retails for a relatively impressive $110/£80. And because they launched in January 2020, you might find them on offer if you shop around.
Puma Fuse review: design
Before we delve into design, let's first address the elephant in the room here - that the Fuse has been endorsed by celebrity F1 driver Lewis Hamilton. A little odd considering his sport is largely a seated affair. Nevertheless, the shoe touts a low-slung design based on what Puma says is "insights from our very own athletes" that brings a focus on stability and shock absorption. But how does it fare on the foot during an actual workout?

Well, the good news is the shoes do a great job at tackling most of the requirements you'd be looking for in a CrossFit-style offering. Our favorite design feature, however, is the internal midsole, which sports a super shock-absorbing rubber that helps take away some of that potentially injury-inducing impact during exercises such as weight lifting and jumping. Then, there's something called PUMAGRIP technology on the outsole, a feature that works to take away traction in activities that involve lots of friction, such as rope climbs.
Overall, the design is very practical but it's not pretty, which brings us onto the topic of aesthetics. Unlike Puma's trainer range, generally - which has earned the brand some well-deserved notoriety as a fashion company as well as sports clothing firm - the Fuse are strangely garish, overly styled and clunky-looking. We understand functional gym shoes need to be just that - and there is some great construction going on in terms of support - but the design could have been toned down a little to help the shoe appeal to a wider market.
It has to be said, people care about style and minimal shoe designs are less risky. The Fuse is just a little too 'busy' for our liking. It's a good thing style is subjective.
Puma Fuse review: sizing and fit
Despite claims on Puma's website that say the Fuse shoes have been designed with a wider cut, they are actually rather narrow in the mid-foot. It doesn't make them uncomfortable but it's just something to note when ordering as they do fit slightly on the snug side. Clearly aware of this, Puma recommends ordering half a size larger than what you'd normally wear. However, we'd even go as far as saying going up a full size would be more appropriate, especially if your feet are wider than average.
Puma Fuse review: performance
Design and fit aside, what really matters is performance. This is the real reason why you would fork out for a pair of trainers made especially for functional fitness, right?
We were a little dubious at first, especially since the Puma Fuse retail for lower than your average functional shoe, but after we tested the shoes in a couple of sweaty HIIT classes, we were pleasantly surprised by how well they performed.
Workout shoes are renowned for feeling a little stiffer than your average running or street shoe. This is because they generally sacrifice cushioning in the name of stability. The Fuse, however, does a great job at balancing this. The shoes feel cushioned enough to support you during short runs and throughout powerful bodyweight exercises, but not too much that they feel spongy, which could give a lethargic effect. This firm yet comfortable construction also works well during weight lifting, as it means you feel stable at the foot and have a good connection with the ground throughout the different motions of an exercise.
At the heel, the Puma Fuse shoes have a 4mm drop. Heel drop is quite an important feature for workout shoes as the higher the drop, the more cushioning, shock absorption, and protection it'll offer for the Achilles tendon area. 4mm is a lower-than-average heel rise but what Puma has done here is give you just enough to help keep you on your toes while still being stable enough to handle more dynamic movements.
While the midfoot is pretty narrow, as mentioned earlier, the toe box (where the end of your foot sits) is a little wider than the bog-standard gym trainer. This offers additional space for your toes so that they have increased freedom of movement, which is vital in situations where you want control and steadiness, again, in weight lighting, for instance.
Overall, you'll find some impressive levels of performance in the Puma Fuse, especially for the price.
Puma Fuse review: verdict
In spite of an overly narrow midfoot and a somewhat gaudy, try-hard design, Puma's functional fitness shoe debut gets the green light from us. The Puma Fuse trainers are brilliant value for money thanks to their ability to provide great support no matter how intensely you train. You've got great stability when you need it for lifting, and superior cushioning for those times when performing high-impact exercises such as jumps. If it's an all-rounded approach to fitness you're after in your workout shoes, and don't want to pay a premium for it, then the Puma Fuse is your next best workout buddy.
Also consider
Nike Metcon 5
They might have been released in 2019 but that doesn't mean the Metcon 5 by Nike are any less relevant than it was two years ago. The headline feature in this shoe is the additional stability in the heel that can assist with squats, deadlifts, box jumps and kettlebell exercises that require a solid base. The 3D-printed upper is highly breathable and roomy, while the raised carbon rubber sole material will offer some additional grip on rope climbs. And since it's now brand new, you should be able to pick up a pair online for much cheaper than the latest generation, the Metcon 7.
Want to know more? Check out the full Nike Metcon 5 review.
Under Armour HOVR RISE 2
This workout shoe by Under Armour represents unbeatable value for money. And because it's budget doesn't mean it's no good. It's a great all-rounder that'll suit the vast majority of gym, CrossFit, or HIIT workouts. The headline feature is the HOVR 'zero gravity' foam within the midsole, which offers more cushion than our other selections and will do a little more to protect the joints when engaging in agility-based exercises like box jumps, while providing some energy return for explosive actions like burpees and cardio-based elements of the workout.
Find out more in our full Under Armour HOVR RISE 2 review.
Find more fitness footwear with our guides to the best running shoes for women and the best running shoes for men.
Get the Fit&Well Newsletter
Start your week with achievable workout ideas, health tips and wellbeing advice in your inbox.
Lee Bell is a London-based journalist, copywriter, specializing in all things tech and lifestyle. He is also a qualified personal trainer. He started his journalism career a decade ago as a reporter covering the latest gadgets and innovations at tech tabloid The Inquirer. Lee went freelance in 2016 to broaden his expertise, moving into news, reviews and feature writing for a host of national print and online lifestyle titles such as GQ, Forbes, Esquire, Men's Health, Wired, The Metro, and The Mirror. He has an insatiable appetite for travel, Dharma yoga, and the odd outdoor challenge.