6 essential exercise accessories to maximize your workouts
Fitness products you shouldn't work out without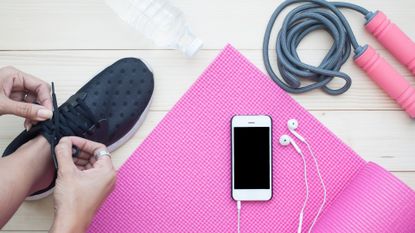 (Image credit: Getty Images)
Investing in the best workout clothes is all well and good - but whatever your chosen sport, there are certain additional items that will help elevate the experience.
Whether you're working out in the spare room, jumping on an exercise bike in the garage, or heading into the countryside for a run, this list of six items covers the kit you should ensure you have with you every time you tackle a session. Some will be used during the workout, others are indispensable afterwards to help you recover.
1. Wireless earbuds
Whether your chosen inspiration while bench pressing, rowing or running is a motivational playlist, information-packed podcast or best-selling audiobook, a reliable pair of true wireless, sweat-proof earbuds that won't fall out are an absolute must.
And with studies showing that listening to the best workout music can help you push yourself harder and further while distracting you from pain, it's time to invest in a pair if you haven't got onboard yet.
Look for waterproof buds if you're planning on running outdoors, as they are more protective than sweat-proof, and true wireless means no wire at all – these are best for sport, as you just push them in your ear, connect to your device with Bluetooth and you're set to go.
Fit&Well loves: Jaybird Vista True Wireless headphones are some of the best workout earbuds on the market. They're also winners for those who do exercise and want true wireless headphones with high-quality sound and buds that won't fall out as soon as you turn your head.
2. Microfibre towel
A sweat towel is a must – and for those of us who stash one in our kit in a bag, the smaller the towel can pack down, the better. That's where a microfibre towel comes into its own.
If you've never used one, you'll quickly be converted by the tiny space they can fold into. One criticism that's often levelled is that they lack absorbency, and that is definitely the case with some of the cheaper ones. Look for antibacterial soft-fibre towels if you want more absorption (although they can weigh more).
Fit&Well loves: Nuasan Active Microfibre Sports Towel. The perfect towel for working out – lightweight, not too big and dries in an instant. It also has a handy pocket for stashing your keys or phone while you work out.
3. The right shoes
If you think that one pair of shoes will suffice for all the different types of exercise you might do, think again.
The reason comes down to functional design. For example, running shoes are specifically engineered to support the forward motion that the sport entails, offering comfortable cushioning and lightweight support to help you run more swiftly (features you'll find on our lists of the best running shoes for men and the best running shoes for women).
Compare this to shoes designed for sports such as basketball or tennis, which involve a lot of dynamic, powerful movements in all directions - forward, sideways and upwards. Shoes for these sports are therefore tailored to cope with these demands.
It's the same when it comes to the best cross-training shoes, which need to tick lots of different boxes: advanced stability for lifting weights, extra cushioning for jumps and cardio bursts, and durability so you can hit those HIIT workout sessions hard.
Fit&Well loves: Inov-8 F-Lite G-300 will see you through all your cross-training sessions due to their light weight, boosted lifting support and grippy Graphene sole that means no more slipping on the mats.
4. Water bottle
Hydration can make or break a workout session, so always ensure you have a water bottle to hand, whether it's mid-Wattbike session or post-run.
Studies have shown that dehydration has a negative effect on your exercise performance, so if you're working out for an hour, as a general guideline, you should aim to drink around 400-500ml of water.
There are increasing numbers of sustainable bottles that ditch plastic for other materials, the main one being stainless steel. This means they can be doubled-walled to keep cold and heat in, resulting in liquid staying colder - or warmer - for longer, while the bottle itself lasts substantially longer than its plastic counterparts.
Fit&Well loves: Hydro Flask Standard Mouth With Sports Cap. Double-walled vacuum insulation means your water remains chilled while you heat up, in sustainable stainless steel with an easy-drink cap. The company also donates to non-profit organisations, providing better access to US parks. See more options in our guide to the best water bottles for the gym.
5. Heart-rate monitor
Wearing a heart-rate monitor opens up a world of new fitness possibilities. From working out to/under a certain bpm, to providing more accurate data and metrics so you can analyse your workout afterwards, they can add a new level to your training and aid in pushing yourself harder.
Many watches now not only track your heart-rate during your workout but also 24 hours a day, and can alert you to any heart-based concerns such as arrhythmia.
Whether it's chest-strap-based or wrist-based within a watch, there's a range of options – see our pick of the best heart rate monitors for more info.
Fit&Well loves: Polar Verity Sense. This new HR monitor is ideal for those who want accurate data but don't like the restrictive feeling of a HR chest strap. It can be fitted anywhere around your arm, and even tracks heart rate while swimming by affixing to your temple under your goggle strap.
If a heart-rate monitor feels too specific for your needs, then many of the best fitness trackers will give you basic heart-rate stats, whilst the best fitness watches offer sophisticated data such as ECG (electrocardiogram).
6. Foam roller
A post-workout must have. Foam rolling can help your muscles recover after you've dragged them through the wringer by working out knots and breaking down fibres so they regenerate at super-strong levels.
Studies have shown foam rollers can improve flexibility and range of motion when used regularly after exercise, so if you're feeling stiff after sitting in a chair get rolling and loosen up those tight muscles.
Fit&Well loves: Hyperice Vyper 2.0 is one of the best foam rollers around. Vibrating foam rollers are more expensive, but your muscles will reap the benefits – three levels of intensity mean you can work sore muscles harder.
Get the Fit&Well Newsletter
Start your week with achievable workout ideas, health tips and wellbeing advice in your inbox.
Howard is a freelance health and fitness journalist and copywriter. He has written for publications including ShortList, Runner's World, Trail Running, Women's Running, Red Bulletin, Wareable and Cycling Weekly. He enjoys nothing more than lacing up his trail shoes and heading out to explore new trails. He's run ultramarathons everywhere from the French Alps and Canadian mountains to the Welsh coast and Peak District. When not running, he's usually found hitting his local MTB singletrack trails or on a quest to find the country's best cinnamon bun.